How long have you been in business?
Talmadge Construction has been in business since 1984, when co-owners Jeff and Adele Talmadge set into motion their dream of helping to reduce people's home remodeling fears and generate positive residential remodeling experiences.
Now, continuing the family legacy, is Sales Manager, Andrew Talmadge, who is diligently and enthusiastically leading the company's day-to-day operations and future growth.
What are your normal work hours?
We normally work from 7:30 a.m. to 4:00 p.m., Monday through Friday. We want our crews to rest on the weekends and be fresh for a productive work week on Monday morning, so we rarely have crews working on Saturday or Sunday. The hours above may vary somewhat depending on the need for material pickups, scheduling of Subcontractors, etc. If you have any special requirements for your project, please let us know.
How can I check the validity and performance of your contractor's license?
What locations do you serve?
The areas we typically service include Aptos, Capitola, Corralitos, La Selva Beach, Live Oak, Rio del Mar/Seascape, Pasatiempo, Santa Cruz, Scotts Valley, Seacliff, Soquel, and Watsonville.
Do you offer free estimates?
Talmadge Construction is happy to provide an initial consultation, the method of which will help us determine if we are the right fit for your project.
In this appointment, we will discuss your remodeling needs and your budget, as well as establish your primary goals. To prepare for the initial consultation, we ask you to make a prioritized list of things you want to accomplish and rank them from most to least important. This list will make it easier for us to openly discuss a realistic budget range.
If at this time you are interested in moving forward with a more in-depth, proactive assessment, we ask for a signed Feasibility Agreement, which comes with a small investment depending on the scope of work.
The purpose of the Feasibility Agreement is to give you reliable, realistic information on what the City or County will allow you to do, what your remodeling plan will look like and roughly how much it will cost.  You will receive a set of preliminary plans that consist of as-built and proposed floor plan drawings, exterior elevations, and a written, limited scope of work with allowances for finishes and a budget range.
We put a lot of time and effort into giving you a complete and realistic estimate, which is why we charge a fee.
It's no secret that some contractors low-ball their estimates with costly end-results. Our estimates are realistic, thorough and complete.
Do you offer a warranty on your work?
Yes, instead of the industry standard one-year warranty on construction work, we provide a four-year warranty on all labor and materials and a ten-year warranty on latent defects. Outside of usual and customary maintenance that you should factor into your home, we are here for you if any part of your project needs to be addressed.
Additionally, all appliances and fixtures are typically covered on their own separate manufacturer's warranties.
Rest assured, we will be here for years to come, even after the warranty has expired, to make sure you continue to be happy with your remodeling project and to assist you with future projects.
Do I need to move out of my home during the remodel?
It depends on the scope of your project and what your comfortability is in living through the construction. A bathroom, kitchen or home addition, for example, may be more manageable to live through compared to a whole house remodel.
If you are doing a major renovation or whole house remodel, we do recommend you temporarily move out of your home. Not only will this allow us to work more quickly, it will be least costly. For example, we can shut down the power, water, and heating systems, and it affords us more flexibility to work in the home without having to take extra precautions to seal off certain areas, protect personal furnishings, stop work at certain hours of the day, etc.
What should I expect once construction starts?
Unlike many common construction horror stories, a Talmadge Construction remodeling experience can and does run smoothly. Why? Because we have developed a reliable process that is supported by an experienced team of professionals who are committed to ensuring the success of your project.
That isn't to say that you won't experience bumps along the way. Rest assured, we will work through every detail and handle every challenge openly, honestly and swiftly.
It's also important to note that remodeling projects seem to have some common high and low points for many owners.  If you have not lived through a remodeling project before, you might be approaching your project with some degree of anxiety and excitement. Know that this is normal. In fact, this is an accurate depiction of what emotions you might experience over the course of your remodel: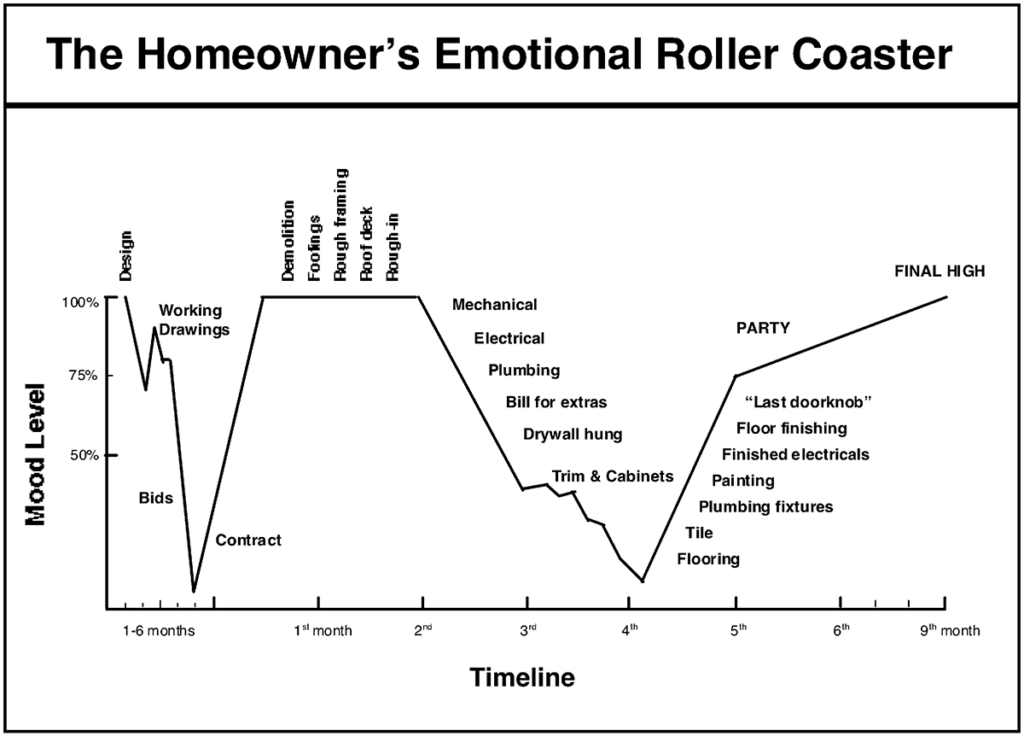 We've also provided you with more detail on what you can realistically expect throughout the construction phase, from years of experience. The good news, thanks to a well-planned and coordinated scheduling effort, we will get you over the finish line, enjoying your newly renovated space for many years to come.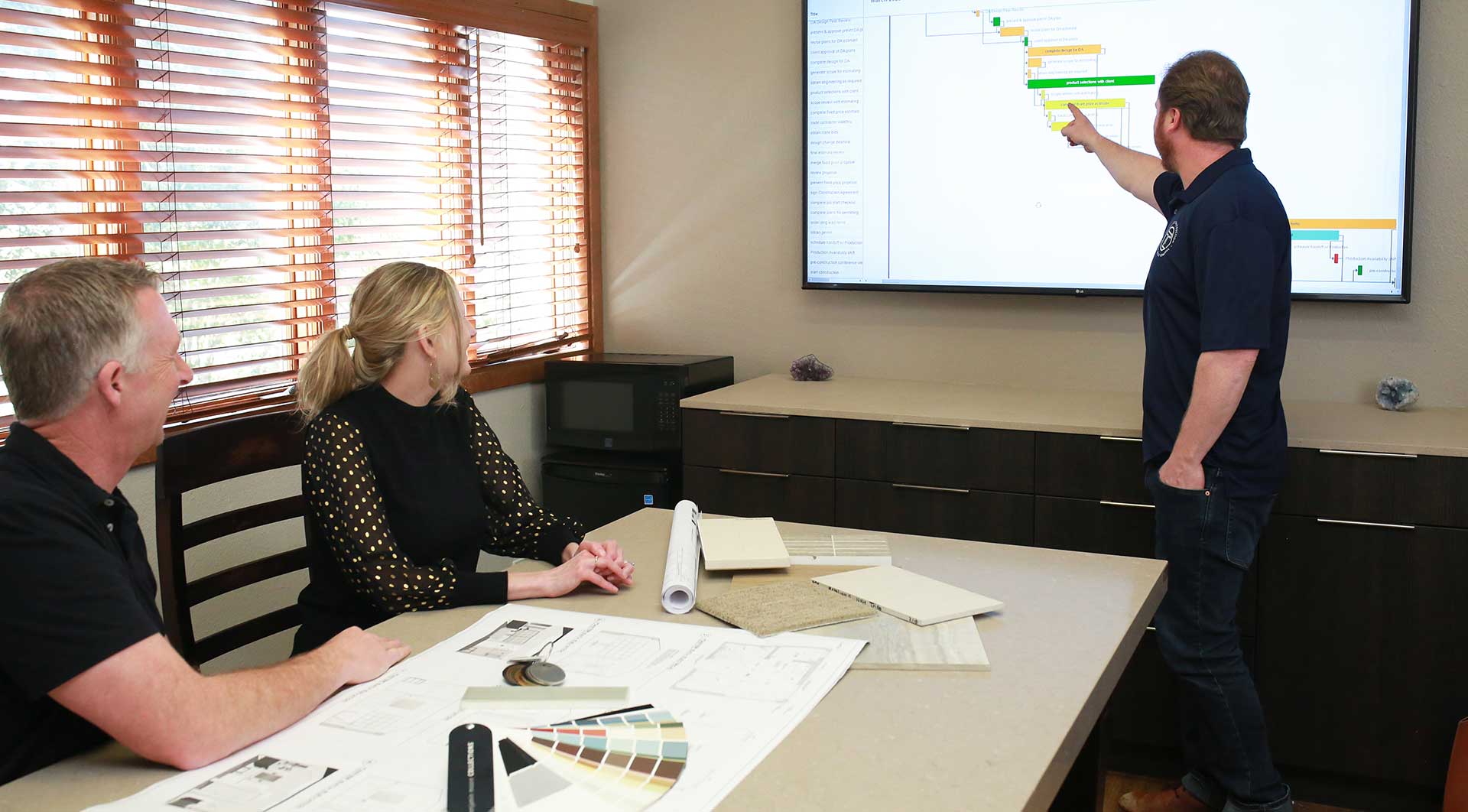 Let's create your next BIG home idea TOGETHER
Have a question or want to discuss ideas for your home?
Call (831) 689-9133 to request an initial design consultation.