Storage space is at a premium in any kitchen, and corners are often a prime culprit with hard to access spaces that are tricky to figure out how best to use. Crystal Cabinets addressed this puzzle by coming up with these inserts and accessories that will make your life a whole lot more organized with little effort. Here are five of their clever corner storage solutions:
1. Twister revolving corner system: Because of the offset post design, you end up with extra storage space that easily accommodates wide plates or bowls. Shelves are height adjustable with a non-slip finish.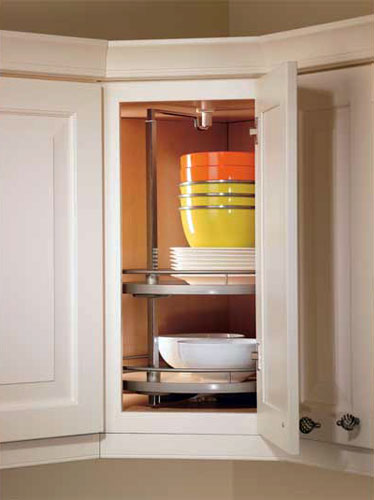 2. Super carousel: The traditional lazy Susan goes super-sized with revolving wood or wire carousels are mounted on bottom and fixed shelf using the maximum space of the cabinet. Wire carousel is available in champagne or chrome.
3. Corner recycling unit: There's often not enough under-sink room for trash and recyclable, too. This corner unit holds it all, with easily removable, sturdy white bins that rotate smoothly on nylon bushings.
4. Blind base storage: Here's your solution for that virtually inaccessible area tucked behind an adjacent cabinet. The front unit pulls out and swivels to a 90º open position while the back shelves slide forward providing total access. Shelves also have a non-slip finish.
5. Corner base drawers: This corner base drawer cabinet offers an alternative to a corner carousel and gives full access to items in the back.
Read architect Danielle Grenier's Q&A about new cabinets for other considerations on planning and design.