The pandemic really changed how people live in and view their homes. And as a result, homeowners became more aware of health and safety concerns, and focused more on function than aesthetics, in a trend known as wellness design.
Wellness involves more than just eating right and exercising regularly. With wellness design, homeowners want more functional spaces, low-maintenance surfaces that are easy to clean and disinfect, and greater access to outdoor spaces. They also want sanctuaries—places where they can wind down at the end of a busy day.
And don't forget the healthy benefits of natural materials, like hardwood, tile and stone. Many standard building materials contain chemicals that are toxic to both living creatures and the planet itself. Wellness design looks toward renewable, natural or organic, energy-efficient, and locally sourced materials.
Kitchen Wellness Design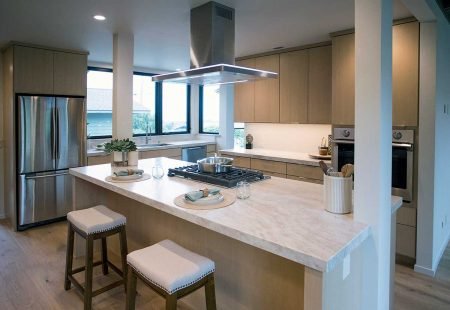 Wellness in the kitchen is being served up as the main course in many homes, with holistic and health-centered kitchens helping homeowners create a healthier lifestyle.
"[Wellness design] can foster multigenerational engagement, improve the convenience of preparing nutrient-rich, dynamic dishes, and transform our relationship with food by affecting our purchasing, preparation, and consumption habits," said Veronica Schreibeis Smith, CEO of Wyoming-based Vera Iconica Architecture and Chairperson of the Wellness Architecture and Design Initiative for the Global Wellness Institute. And with more multi-generational households, comes an increased interest in cooking. Another benefit!
Kitchen wellness trends can include:
Environmentally-friendly natural materials, like wood, stone, and glass
Toxin-free materials without volatile organic compounds (VOCs) or chemicals
Anti-microbial, low-maintenance technologies for countertops, flooring, lighting, and ventilation
UV-C or ultraviolet disinfecting light incorporated into the forced air heating and cooling system
Radiant heating instead of forced air heating
Larger islands and food prep areas to encourage socialization
Separate work zones
Sufficient ventilation, including "make-up air" to introduce fresh air when exhausting stale air
Composting stations
Hands-free faucets
Glass-door refrigerators that reduce food waste by letting you see the healthy foods on hand
Ergonomic dishwashers like the ComfortLife
Drawers to help with mobility issues
Larger, organized pantries for stocking ingredients for home-made meals and working areas with power sources for small appliances, like a coffee center or wine fridge
Windowsill kitchen gardens
Separate beverage refrigerators
Universal design (the design of buildings, products, or environments to make them accesssible to all people, regardless of age, disaibility or other factors)
Bathroom Wellness Design
Wellness design may begin with hygiene and sanitation, however, homeowners are going far beyond and incorporating self-care and spa-like features into their bathrooms to help them relax, recharge, and build more self-care routines into their lives.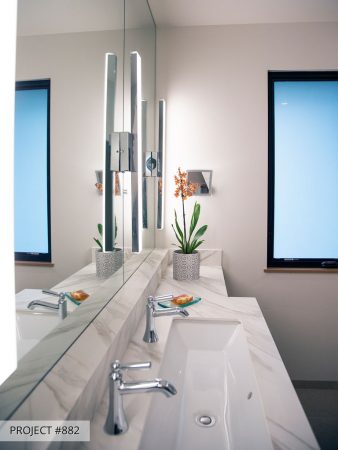 Bathroom wellness trends include:
Large, freestanding soaking tubs that create a personal haven
Hydro-thermo massage tubs
Expanded showers with multiple showerheads, benches, natural colors, and organic materials
Steam showers and infrared saunas that help remove toxins from the body
Heated floors
Chromatherapy lighting, sound therapy, and scents to create a relaxing atmosphere
Technology like voice-activated controls, hidden plugs, built-in speakers, touchless faucets
Healthy Living Wellness Design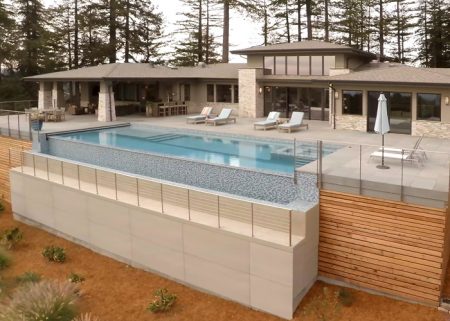 Dedicating spaces for healthy living, like adding a home gym, yoga studio, or an outdoor spa is an investment in your physical, emotional, and mental well-being. Create an area for calm and enjoy the benefits to your body, mind, and soul.
Areas for creativity are also nurturing, so think about areas where you can pursue a fulfilling hobby like painting or photography.
Related: Creating Your Happy Place and Healthy Home with Wellness Design
Functionality
Does your home function well or are you frustrated with your kitchen design? Does the family bump into each other as they get ready for the day? Is the layout awkward? The more dysfunctional your home, the more stressful your living situation. Designing for wellness takes into consideration how your home functions for you and your family.
At Talmadge Construction, when we design a remodel, we look at how you use it—its layout and features—and suggest alternatives that can amplify your enjoyment. What is it you really want? Ample kitchen workspaces or a home office? Or accessibility features like barrier-free entryways. We'll find a way to incorporate them into your design
Aesthetics
Consider the colors and textures in your rooms. Do they make you happy and comfortable? How about organization? Is your home cluttered or calm? In the vein of organizing expert Marie Kondo, do the items in your home bring you joy? Wellness design goes beyond design into the aesthetics of your home. Turn your home into a sanctuary that helps soothe you at the end of the day.
Air Quality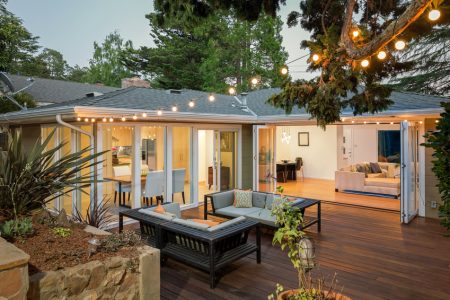 Believe it or not, your indoor air may be unhealthier than the outdoor air. Trapped, stale air, off-gasses from household products and building materials, and pathogens like molds can affect your healthy lifestyle.
One of the primary causes of poor indoor air quality is inadequate ventilation. Opening windows and doors, and running window or attic fans can aid in removing or diluting airborne contaminants. It can also help regulate indoor air temperature and humidity levels.
Some of the newest technologies feature air filtration systems and mechanical systems like energy-efficient heat recovery ventilators that bring outdoor air into the home.
How Talmadge Construction Can Help Remodel for Wellness Design
At Talmadge Construction, we've been nurturing the connections between a healthy home and a healthy lifestyle in the Santa Cruz area for more than 30 years. Incorporating wellness design and technology is just one of the ways our design-build remodeling firm can bring your dreams to reality.
We're a true design-build remodeling firm, meaning your entire project is handled in house for your convenience. The design-build process allows you to custom design your home exactly as you want it, with the features and products you choose. It also enables us to control schedules and costs—and reduce stress.
Learn more about our Design-Build process.
If you're looking to learn more about wellness design in your kitchen, bathroom, or whole house, give us a call. Contact Talmadge Construction at 831.689.9133 or email us at office@talmadgeconstruction.com. We'll be glad to help.