Many decks and patios in Santa Cruz County are constructed over outdoor living spaces. A waterproof construction on these decks helps to protect the living space from excessive water during the rainy months. We construct waterproof decks using a sophisticated pedestal and tile construction which is a long-lasting option specifically designed to be waterproof.
What Circumstances Lead to Problems with Outdoor Decks?
In any situation where you need a waterproof solution, the integrity of the design is crucially important. Many decks are constructed with tile adhered to a mortar bed. If a deck is constructed with a mortar bed, it will need to be sloped to allow for water to run off, which can be awkward for patio furniture. In addition, water will eventually seep through the grout and mortar, creating a pool beneath the tile that will eventually leak. When this does happen, all of the tile needs to be removed to repair the deck.
What About Our Waterproof Deck Construction Helps to Mitigate These Problems?
Instead of mortar, we use pedestals and lay 2-foot tiles across the deck. Beneath the pedestals, we can slope the membrane to drain water off the deck, but the pedestals are adjusted so that the tiles are level. There is no grout between the tiles, so the water can flow between the tiles and through the drainage system. We can use wood tiles, porcelain tiles, or even natural stone tiles. If the deck ever does develop a leak, the tiles can easily be removed for the repair. This style of waterproof decking is much longer-lasting and simpler to repair.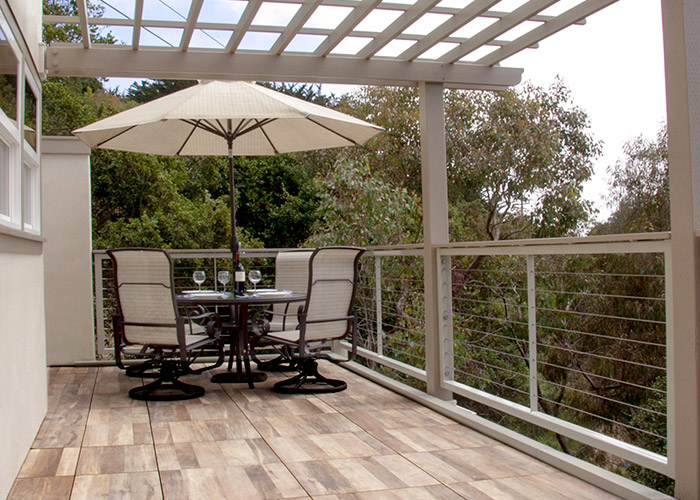 Talmadge Construction has been designing, remodeling, repairing and waterproofing decks in the Santa Cruz area for nearly 30 years. Each decking project is designed to complement the architectural design and landscape of the client's home – delivering structural strength and a great aesthetic. From the choice of wood or composite decking materials, to the style of railing – the company's experience helps clients with a great outcome every time.
If you would like to speak to us about a deck design or deck repair project please contact us or call (831) 689-9133.