Today's remodelers are incorporating more items under the category of Universal Design than ever before. Not only are homeowners looking to age in place, they are also enjoying the features and benefits of products and layouts that offer accessibility at all levels of life, abilities and disabilities.
For design, homeowners are requesting single-story living, first floor primary bedrooms, wider doorways and hallways, lever door and sink handles, and barrier-free entries and room transitions. Universal Design products are chosen the same way as any material selections, and are easily incorporated into remodeling projects and customized to fit both current and future needs.
The Difference Between Universal Design and Aging in Place
There are some similarities between the Universal Design and Aging in Place, however, each offers specific designs tailored to individual needs.
Aging in Place incorporates modifications that enable people to live safely and comfortably in their homes as they age and their physical abilities change. It enables maneuverability and access. Examples of Aging in Place modifications can include a ramp replacing outside stairs or an inside chair lift.
Universal Design incorporates products and environments usable by every member of a household, from youngest to oldest without any special requirements for alterations. It is an overall design category that can include elements of Aging in Place and is ideal for families with multiple generations living together under one roof.
7 Principles of Universal Design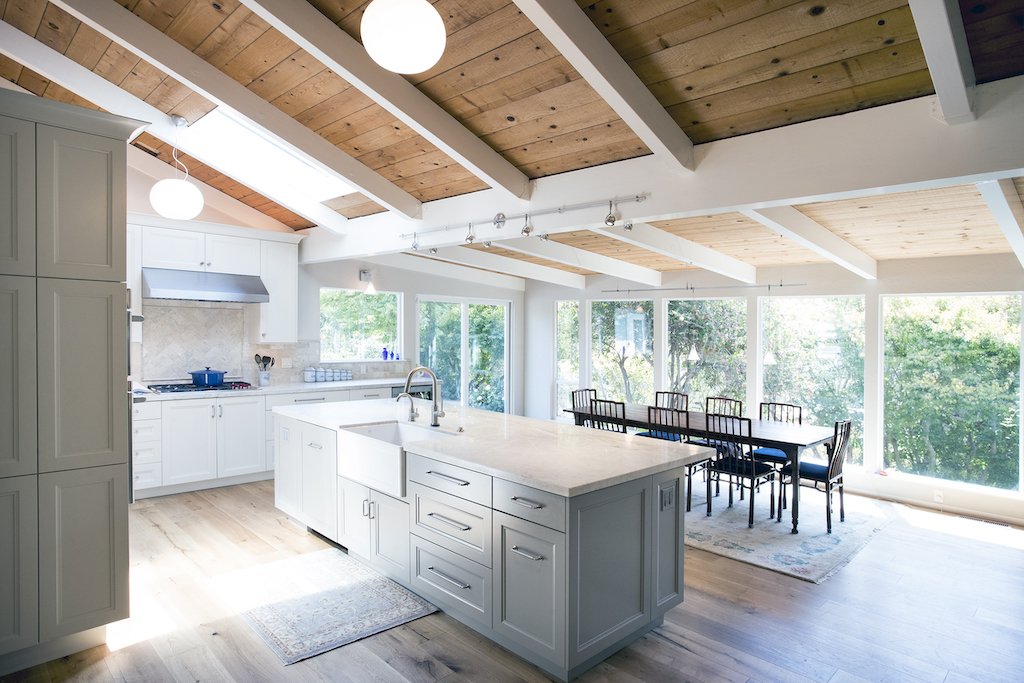 "Typically, products are designs to be most suitable for the average user," reports the Center for Universal Design at North Carolina University. "In contrast, products designed according to principles of Universal Design are designed to be usable by everyone, to the greatest extent possible, without the need for adaptation or specialized design."
These principles of Universal Design, as defined by Connell et al. in The Principles of Universal Design, include:
Equitable Use – Useful and marketable to people with diverse abilities.
Flexibility in Use – Accommodates a wide range of individual preferences and abilities.
Simple and Intuitive Use – Easy to understand, regardless of the user's knowledge, language skills, experience, or current concentration level.
Perceptible Information – Communicates necessary information to the user regardless of ambient conditions of the user's sensory abilities.
Tolerance for Error – Minimizes hazards and adverse consequences of unintended or accidental actions
Low Physical Effort – Can be used comfortably and efficiently with minimum effort or fatigue.
Size and Space for Approach and Use – Appropriate space is allowed to approach, reach and use products, regardless of the user's mobility, posture or body size.
Ways to Incorporate Universal Design into Your Home Remodel
Universal Design in the Kitchen
Since the kitchen is one of the most essential—and one of the most used—rooms in your home, it is where a lot of Universal Design principles come into play. During the planning process, consider how the space can be functional and accessible to every person who will be using it. Is the floor plan open enough? Are the cabinets and appliances accessible? Here are some items to consider:
Layout – Ideally, an open floor plan is best, with five feet of space around cabinets and islands to allow a wheelchair turning radius of 60", walker access, and multiple cooks.
Cabinetry – Ensure that kitchen storage is at a level accessible to all.Consider pull-out shelves on lower cabinets and incorporate a raised and deep toe kick to allow wheelchair users to get closer. Place appliances like dishwashers and microwaves where they can be reached from either a seated or standing position. Consider half-round or rounded-corner shelves that maximize space and maneuverability while enabling functional and decorative storage.
Surface Heights – Design surface heights accessible from both seated and standing positions. To meet ADA requirements, countertops should sit at 34" from the floor.
Workstations – Think about where you will spend most of your time in the kitchen while preparing meals—the sink, stove and countertops. These are your workstations. A roll-under sink and cooktop, and a side-by-side or drawer-unit refrigerator can make the difference.
Lighting – Kitchen lighting should be chosen to improve the environment either visually, functionally or aesthetically. Consider the fact that our vision deteriorates as we age, and color saturation and glare can become a problem. Incorporate indirect lighting that reduces glare and shadow, and choose energy-efficient options.
Universal Design in Bathrooms
The second-most used area in the home are its bathrooms, and a place where safety, along with accessibility, comes to the forefront of Universal Design.
Layout – Access into and within a bathroom is essential for any age or ability/disability level. Hallways should be 36" wide, and doorways at least 32" wide, with doors that swing outward.
Flooring – Reduce slip-and-fall incidences with a textured, non-slip flooring surface. Remove bathmats and other trip hazards. If a bath mat is required, consider a low-pile, rubber-backed version.
Tub and Shower Access – Install a barrier-free or walk-in bath or shower, or an ADA-compliant bathtub transfer bench. Barrier-free showers should include a curbless or low-curb threshold, a 5' turning radius within the shower, slip-resistant flooring, mounted grab bars, a shower seat, both adjustable and fixed shower heads, accessible shower controls, and anti-scald controls.
Lighting – Bathrooms should be well lit and address the sink, bathing and toilet areas, along with cabinets and drawers when opened. Rocker-style light switches make on-off functions easier.
Universal Design for General Access
Universal Design elements can be incorporated throughout your home. Consider these:
Outlets & Switches– Easily-accessible and multiple outlets should be widely available, placed at a minimum of 18" above the floor. Light switches should be placed 42" above the floor.
Handles – Install lever handles instead of round door knobs or faucets.
Transitions – Plan zero-step entryways for the porch, and for entry doors to the home and garage. Use smooth and durable flooring in all traffic areas, with no-threshold transitions. Widen doorways and hallways, and allow clear spaces for easy access.
Smart Home Technology – Smart Home technology can provide ease of access and control, and safety. Items can include voice-activated or programmable products and controls, touchless faucets or home automation systems.
Remodel with Talmadge Construction
Talmadge and You — Supporting Our Community
Talmadge Construction recognizes Santa Cruz County homeowners as our neighbors and we advocate for what can make your lives easier, whether it's a remodel or our contributions to the growth of the community and our support of education. Improving people's lives both at home and through education translates to a better society. And don't we all want that? When you work with Talmadge, you help to contribute directly to supporting education in your local community.
Universal Design by Talmadge Construction
Oceanfront homes are a rare commodity here in our community, and at Talmadge Construction, our goal is to preserve these homes by remodeling them to fit a modern family's lifestyle. We've been doing it already for nearly 40 years!
Talmadge Construction is a family-owned business providing innovative, eco-friendly design, consistent and straightforward communication, and clear and effective processes that result in the creation of both exceptional value and a remarkably pleasant remodeling experience. Our reputation for integrity is at the center of everything we do. If you'd like to learn how you can incorporate Universal Design into your home, contact us at 831-689-9133.
Visit our Design Portfolio for Inspiration!