Anyone who's ever worked with Talmadge knows we're all about community service. After all, Santa Cruz County is our home, and we could never fulfill our mission of providing exceptional remodeling experiences to residents if we didn't also feel a strong sense of social responsibility. At the heart of that duty is empowering our teachers and students to build brighter futures.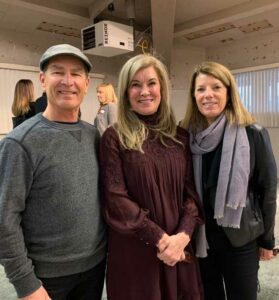 "We're thrilled to have the opportunity to support local K-12 schools each year," beams Jeff Talmadge, President. "We can't thank Christy Licker, owner of Caroline's Non Profit Thrift Shop enough for setting up a scholarship fund awarded in our name from her business. Every year two deserving Cabrillo college students receive a $2,500 grant. So now we are able to support students beyond K-12."
"I appreciate Jeff's thoughtfulness," smiles Christy, "but allow me to thank him and all the fine folks at Talmadge who have donated countless volunteer hours of expertise and help to Caroline's, our local schools, nonprofits, and people. So naming the award after Jeff and Adele was only natural, and we can't be more excited to announce this year's two new winners!" 
The first winner is Itomi Rossi, a biology major pursuing a bachelor's degree in marine biology. Planning to transfer to UCSC, Itomi is excited to have received the award, well-earned considering her many community honors and active participation in extracurricular activities, including roles as a teacher's assistant and classroom facilitator at an educational nonprofit.
"My interests are fueled by my passion for social justice, ocean conservation, and amplifying underrepresented voices," says Itomi. "As a young Japanese Dominican woman in science, I work to help transform industries to be more diverse and inclusive. Balancing my personal life and school work has not been easy, so my award will help me as I transfer schools. Thank you!" 
The second winner is Martine Djikstra, another biology major also interested in health sciences. Planning to transfer to San Jose State University, Martine wants to specialize in microbiology. Also a recipient of numerous honors and an active tutor and teacher's assistant, Martine is eager to start a career in public health at the intersection of science, technology, and healthcare. 
"My career goal is to work in a medical laboratory where I perform diagnostic testing and blood analysis for effective preventative care," she says with passion. "That focus comes from enduring the loss of my father to a stroke that could have been prevented had he received the proper care. I'm so thankful to receive this award, which will help me realize that dream."
Martine shows that it's never too late to reach your dreams.  She is a re-entry student who resumed her college degree pursuit after more than a decade.
Established in 2020 as an expression of thanks for installing facilities at the store to reduce workload, the Jeff and Adele Talmadge Non-Endowed Scholarship Fund has already helped many local college students like Itomi and Martine. "Our kids are our future," smiles Andrew Talmadge, current Sales and Design Manager and future President of Talmadge Construction. "We can't wait to see what they'll accomplish!"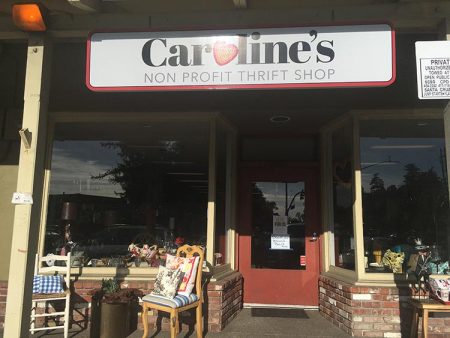 Donations from Caroline's have cumulatively exceeded $2 million and have impacted the lives of thousands of residents throughout Santa Cruz County. Christy and her volunteer team work tirelessly to turn donated clothes and household items into sales. The proceeds are awarded to local non-profits that benefit children's causes.  Jacob's Heart, CASA, and Hope's Closet are just three of the many local organizations that get a financial boost each year.
To find out more and support Caroline's, visit their website. There are always beautiful, gently used fabulous items for sale.  Holiday shopping opportunities for a cause!