Sustainably-minded homeowners want to conserve natural resources, increase energy efficiency, and improve indoor air quality. They understand the value of remodeling over building new. By adding the latest green renovation options to their remodeling plans, homeowners can have a more earth-friendly home and minimize construction waste. And sustainable renovations are easier to employ than a decade ago, even in eco-minded markets like Santa Cruz County.
While you may be unable to use every green suggestion your designer recommends, just a few changes can make a difference. Here are three specific green design choices to consider when remodeling your home.
SMART WAYS TO HEAT WATER WISELY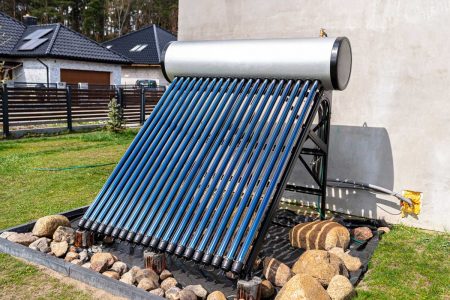 In the typical home, 20 percent of the energy bill is from heating water. If you have teenagers, it's even higher. "The delivery of hot water–for laundry, sinks, and showers–is the first place to look for green benefits in your remodeling," says Jeff Talmadge, president of Talmadge Construction. "And, the most energy-efficient water heater is the sun." There are two types of modern solar water heating systems: active and passive.
An active system has solar collectors, storage tanks, and pumps that move the water throughout the home. The system pairs with a standard gas, electric, or on-demand water heater. The solar-heated water fills an insulated storage tank, which supplies the water heater. As a result, the traditional water heater efficiency is greatly enhanced by starting with hot water, reducing the use of fossil fuels that contribute to global warming.
A passive system is more primitive. It consists of a storage tank of transparent material. The sun heats the water, which then moves through the system as it's used. Passive systems work well in the Santa Cruz County area because there are not a lot of freezing conditions. Passive systems also work best for households with hot-water needs that fall mainly in the daytime or evening.
SUSTAINABLE WINDOW AND DOOR SELECTIONS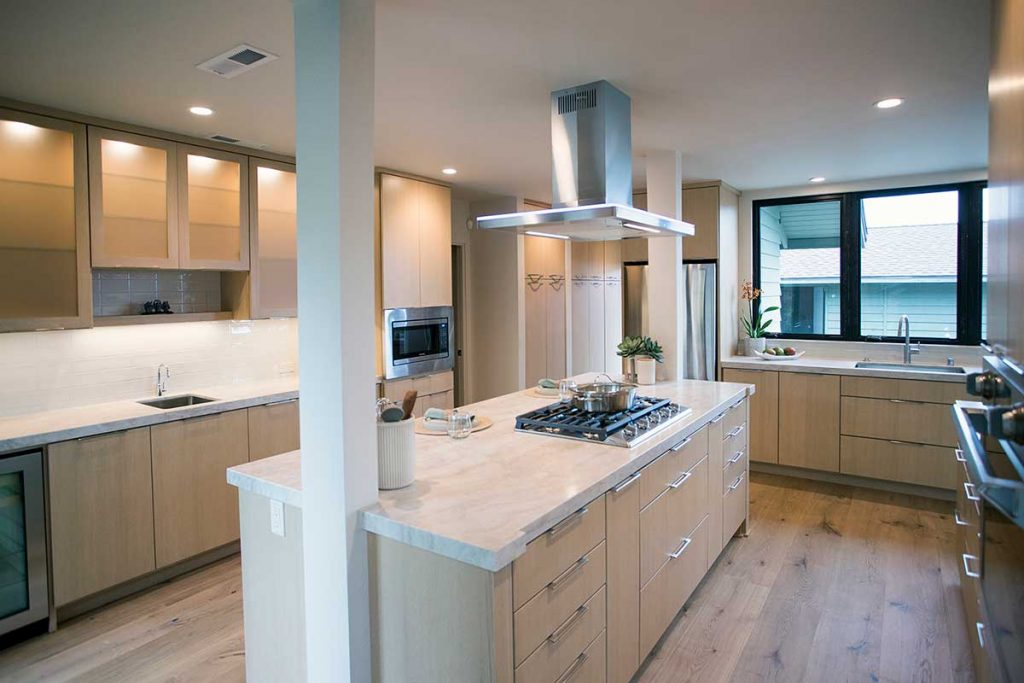 Another eco-friendly design choice that will make your home greener is a high-quality window and door package. According to David Neighoff, a designer with Talmadge Construction, the average home loses up to 40 percent of its heat through the doors and windows. "Whether you're remodeling an existing home or building a new one," he says, "this is a selection that should be looked at closely." There are several factors to watch for when shopping for windows and doors.
Material–Windows and doors come in many different materials, but coastal homes benefit best from fiberglass. Fiberglass is energy-efficient, lightweight, and promotes sustainability. And if you change your design, you can paint fiberglass multiple times, and the material won't warp or twist.
The number of panes–Traditional single-pane windows have the most significant air loss, resulting in higher energy bills. By replacing single-pane windows with dual- or triple-pane windows, you'll experience fewer temperature fluctuations. While dual-pane windows are pretty standard, triple-pane are more common in extreme winter environments.
Glass type–Besides the number of panes, glass type is another factor when choosing a window or door. Low-E, or low-emissivity, glass has a thin, transparent coating that reflects heat into the room in the winter and away in the summer. And it reduces harmful infrared and ultraviolet rays that go through the glass, damaging furniture, carpet, and artwork, without lowering the light. Between the panes of a low-E glass window is argon gas, which provides insulation.
Construction–A window's structure and operation are also efficiency factors. For example, casement windows create the tightest seal when closed and have fewer air leaks than traditional double-hung and sliding windows. The leaks are most noticeable in areas with high winds.
Installation–Always follow the manufacturer's recommendations or hire a qualified professional, as proper installation is critical to the window and door's integrity, its role in heat transfer, and its warranty. Also, install weather stripping and sealant to prevent leaks and drafts. And, to give water a way out, never caulk the exterior sill of a window.
Window treatments–While blinds, drapes, and shades are typically sold as an accessory to a window, they also keep your home climate-controlled. For example, drapes can block up to 33 percent of summer's heat from entering your home and keep 10 percent of your heat from escaping in the winter. They also provide privacy.
"Working with an experienced designer when choosing windows and doors will help you achieve the look you've always wanted," says Neighoff, "and create the most efficient home."
OTHER GREEN DESIGN REMODELING CHOICES TO CONSIDER
You can upgrade nearly every area of a home with eco-friendly, sustainable materials, fixtures, or services. In addition to choosing low-VOC paint, low-flow water fixtures, LED lighting, and formaldehyde-free materials, consider the following green remodeling options.
Solar Power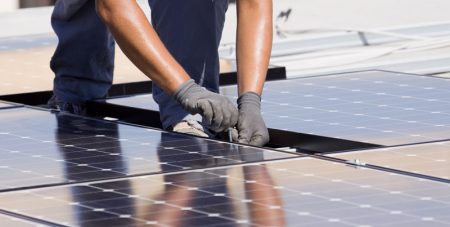 Unfortunately, burning fossil fuels to produce electricity emits harmful carbon emissions. And those reserves are in limited supply. On the other hand, solar power is a renewable resource that we could use to power the entire world with the proper infrastructure.
Solar panels absorb energy from the sun and convert it to the electricity you use to power your home. Most homeowners install a solar panel system connected to the grid, which provides power when there is no sun. And, if your panels generate an abundance, the power company buys that energy through credit which lessens your power bill.
Other off-grid solar systems require a battery storage bank that provides power when the sun is not shining. Typically, this type of system is reserved for remote areas where there's no other power source.
Energy Star Appliances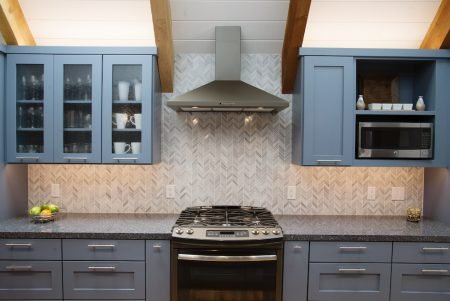 Another way to save energy is to use appliances with an Energy Star rating. An Energy Star appliance meets a set of strict criteria established by the US Environmental Protection Agency or the US Department of Energy. Because these appliances use less energy, which protects the environment, they also save you money. For example, Energy Star refrigerators are at least 15 percent more efficient than non-rated refrigerators. And ENERGY STAR washing machines use roughly 25 percent less energy and 33 percent less water than non-qualifying options.
Efficient Lighting Options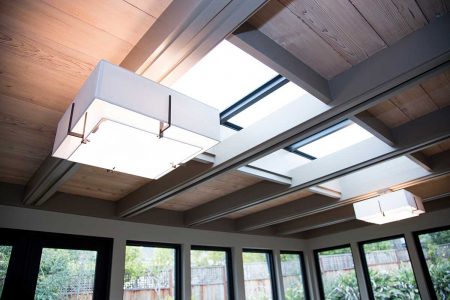 One eco-friendly lighting change you can make in your remodel is switching to LED (light-emitting diode) lights. LEDs are the most energy-efficient lights on the market. Energy Star rated residential LED products use about 75 percent less energy than other options and last 25 times longer than incandescent bulbs. And, they don't get hot. Incandescent and compact fluorescent light (CFL) bulbs release 80-90 percent of their energy as heat. LEDs also save you money in longevity as, on average, an LED bulb should last about 20 years.
Another energy-efficient lighting option making its way into homes is motion-activated sensors. These devices detect when a person enters or leaves a room and turns the light on or off accordingly. Studies show that occupancy-based lighting provides an average of 24 percent energy savings.
GREEN REMODELING BY TALMADGE CONSTRUCTION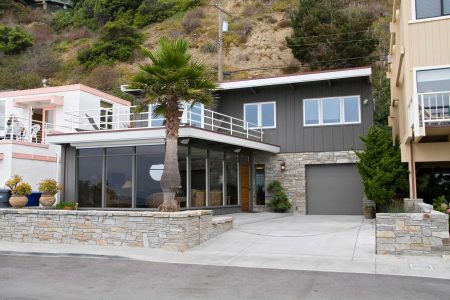 Oceanfront homes are a rare commodity here in our community, and at Talmadge Construction, our goal is to preserve these homes by remodeling them to fit a modern family's lifestyle. We've been doing it already for nearly 40 years!
As a certified green building contractor who follows a design-build process, Talmadge Construction provides innovative, eco-friendly design and an enjoyable remodeling experience. Their reputation for integrity is at the center of everything they do. In the community, they recognize that Santa Cruz County homeowners are its neighbors and fellow business owners. They place equal importance on contributing to the community's growth by advocating for homeowners and supporting education. They believe that improving lives at home and through education translates to better societies. When you remodel with Talmadge, you directly contribute to supporting education in the local community.
If you'd like to learn how to incorporate green building options into your home, contact us at 831-689-9133. Or, visit our Design Portfolio for Inspiration!