When it comes to bathroom remodeling, the first thing most of us think of is the luxurious master bath we've always dreamed of. But guest bathrooms and powder rooms need love too. And even though they are often much smaller than other rooms in the house, that doesn't mean they have to be short on design. Here are a few ideas for making your small, powder room more luxurious, while still maximizing the limited space.
Floating Vanity & Floating Toilet
The floating vanity create the illusion of more space. It's a good look for modern or contemporary designed homes.
Wall-mounted toilets have been the norm in Europe for a while, but this practical, space saving design is catching on in the US. They represent a more modern look for your bathroom — and as a bonus — they are much easier to clean!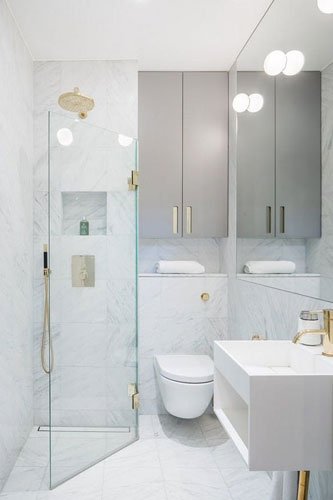 Curbless Shower
No curb to step over, making it a good option for elderly or disabled.
Used in conjunction with a low wall or partial wall, creates the illusion of more space.
Bonus – no shower doors to keep clean or worry about slamming.

Floor to Ceiling Glass Shower Enclosure
Partially enclosed to fully enclosed glass enclosures give the illusion of more space.
They are versatile and can create a super elegant or minimalist look in the bathroom.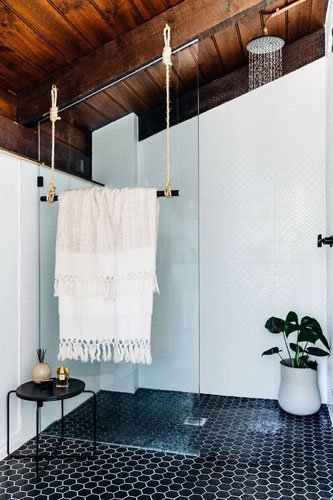 Creative Storage
We love how these Custom Cabinets creatively use the narrow space between the bath and vanity, and we're fans of the built-in hamper that makes the bathroom look clutter free.
Built into the wall shelves help you maximize space that would otherwise go unused, or wall space that is not suitable for a mounted shelf.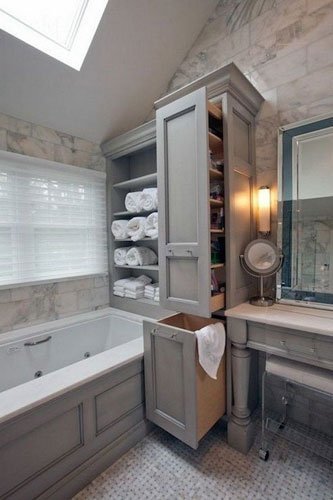 Lighting
Exterior skylights are a lovely option if you can't get a window in. Skylights are perfect for very narrow bathrooms, allowing natural light in, making space look and feel more airy.
Recessed lighting in conjunction with vanity lighting allows you to control lighting options for time of day, or who is using. Another popular option is to utilize bulbs that can change the color or mood of the lighting, to energize you in the morning, or help you wind down at the end of the evening.