Is there nothing more cheerful than a bright day, with sunshine pouring in through your windows? Since the start of the COVID-19 pandemic, we've been spending more time at home, and noticing our surroundings more than ever. And that includes the amount of natural light that flows into our homes.
As you look to remodel, we'd like to provide some tips on how to embrace natural light through creative window and sightline design.
Floor-to-Ceiling Windows
Opening up your home with large expanses of glass not only brings in light, it merges the inside with the outside. This can make you feel like you are living in a green paradise. Unencumbered, framed views of nature can also make the inside space feel larger.
Choose a fixed-glass option or window wall, or incorporate sliding glass panels that can create spectacular entertaining or relaxation spaces when fully opened. For privacy and sunlight protection, consider larger windows on the bottom with manual shades, and smaller windows on top utilizing power shades for your convenience.
Sky Windows and Skylights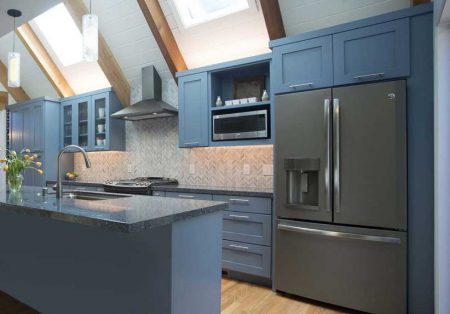 Another way to embrace natural light is to open your home up to the sky with skylights and sky windows. Skylights and sky windows can appear as if the ceiling is open to the sky with concealed frames to create a more organic composition. They can also run the length of a room. No longer is the square, boxy skylight the norm. The possibilities are wide open!
Sky windows and skylights become a dramatic design element in your home, marrying the architecture to the surrounding landscape and natural light sources. They can include the option of built-in shades, with remote-controlled operation that can help regulate light and heat.
For optimal enjoyment, take into consideration the direction in which the skylight is pointing, or its orientation.
North: If facing north, the skylight or sky window receives the most indirect light and the coolest temperature.
East: East-facing skylights and sky windows receive the morning light, but for the rest of the day, remain cooler with indirect light.
South: Southern-facing skylights bring bright, intense light, but also more heat, which can help with passive heating in the wintertime. Skylights that open can help cool a room.
West: Skylights or sky windows facing west bring bright light and heat gain in the afternoons.
Consider a self-cleaning glass featuring a coating that breaks down dirt on the surface, which is then washed away by the rain.
Corner Windows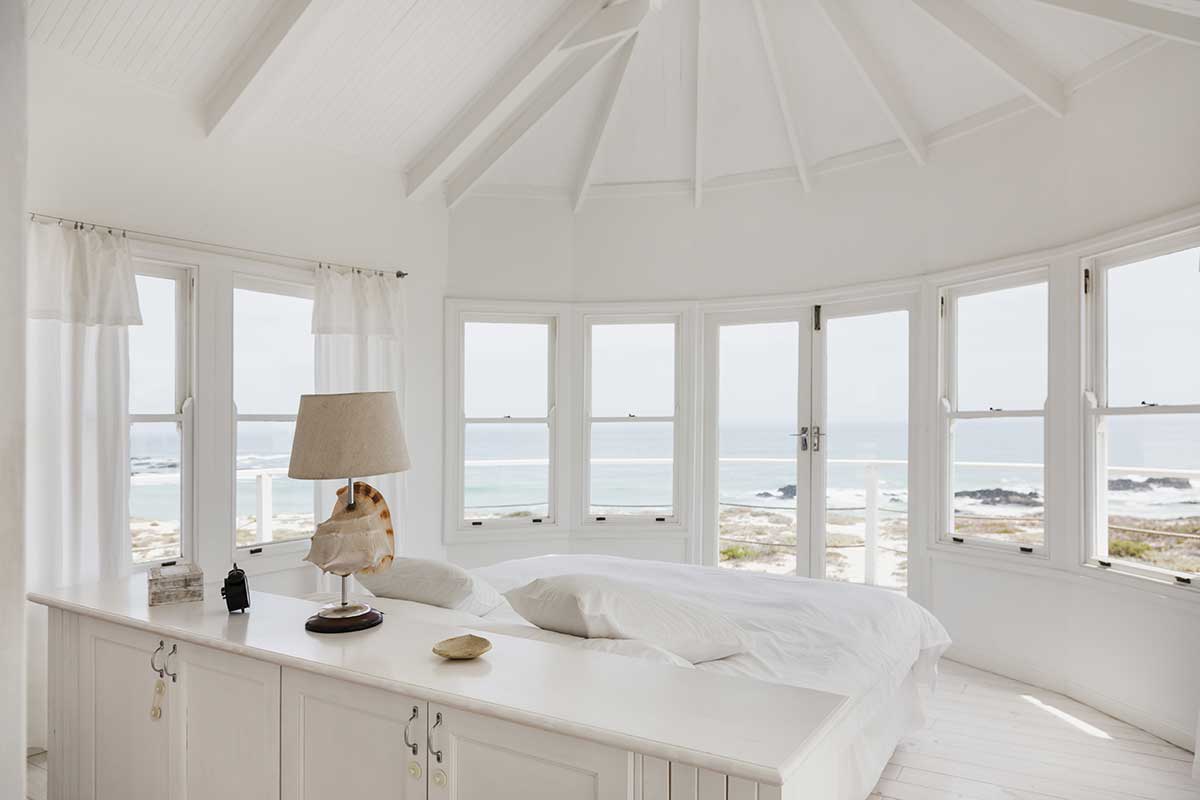 Windows don't have to be centered and punched out on an outside wall. They can wrap around corners to provide views and embrace light from more than one direction. This adds a striking element to your home design while opening up panoramic views. Frank Lloyd Wright was one of the pioneers in cantilevered corner windows installed without corner supports, as in his iconic Fallingwater home design. Modern architecture takes this even further to emphasize both the home and the exterior landscape.
Corner windows can be installed as solid glass or can open up to wide views unencumbered by framing. Consider adding upper-level corner windows to a shower to offer sky and tree views while embracing natural light.
Clerestory Windows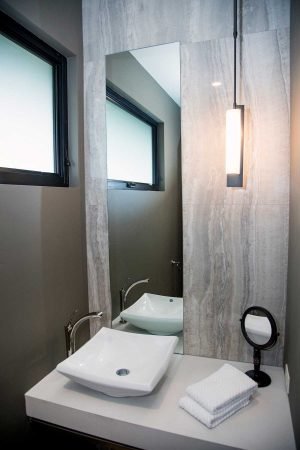 Clerestory (pronounced "clear story") windows offer privacy while embracing natural light. They are generally a set of windows located above head height. Install clerestory windows across one wall, or surround the entire room with these small, but bright windows, and retain the wall space for furniture and art placement. Use the clerestory windows as a design statement themselves, with patterned, colored or translucent glass.
As an architectural feature, clerestory windows can make the ceiling seem as if it is floating above the walls from both inside and outside the home. They can also be designed to provide indirect rather than direct light, and offer sources for ventilation. Another benefit is the light and sky views along with the privacy of walls or curtained windows below.
French Doors
Why settle for a plain sliding glass door when French doors add elegance to your entryways. Install one window-filled French door, or a wall of them opening onto a beautiful patio or poolscape. They combine style with function to provide open sightline views and enhanced natural light.
French doors come in a number of configurations including standard-width doors, double doors and ultra-wide options, and straight or arched frames. They can even rotate on an axis rather than swing open on hinges.
Imagine French doors in your primary suite, as a dramatic feature at the end of a long hallway, or as a beautiful and useful interior/exterior access point in a dining room. There are no limits to where French doors can be used.
Embrace Indoor/Outdoor Living with These Types of Windows and Doors
In addition to embracing natural light and enabling outdoor views, your windows and doors can serve as portals. As we've discussed with our windows and doors above, they can open up in various ways to allow seamless indoor/outdoor living. Here are some options:
Folding: Folding doors can span the width of any entryway or window and, operating on a hinge system, can fold open.
Multi-slide: Multi-slide systems use low-profile wheels that enable door panels to slide effortlessly on parallel interlocking tracks.
Swing: Swing door systems allow even oversized doors to swing open on a hinge system.
Why Sightlines are Important When Designing for Natural Light
Windows play a key role when remodeling for natural light and sightlines. The sightline is what you see from any point in your home. Good sightlines offer pleasing images from one space to another and can incorporate outside views as well as let in natural light.
When designing a home remodel, we consider the view from inside the home, and then beyond, through the windows and doors. We want to create a seamless transition of lines that draw your eye to the best features. Open space plans offer the most options for open sightlines, but even in smaller homes, good sightlines can be incorporated.
Related: The Sightlines You Want In Your Home (and Those You Don't)
Keeping Windows Green and Energy Efficient is Easier than Ever
The latest energy-efficient products make it easier than ever to incorporate lots of glass without breaking the bank on energy costs. They deliver improved thermal performance, reduce drafts and leaks, and lock into place with airtight seals. Installation is also key; always use a professional like Talmadge—we're certified green building experts.
Types of energy-efficient glass include:
Double- or triple-pane glass: Insulating gas between the panes offers additional insulating qualities.
Low-E glass coating: This low-emissivity glass coating reflects solar heat to warm your home in the winter and help deflect heat in the summer. This can be important with large glass installations.
Solar film: A thin layer of tinting on windows helps block ultraviolet rays, keeping your home cooler in summer and warmer in winter. It can be added to existing windows.
Embrace Natural Light in Your Home When Remodeling with Talmadge Construction
The style, size and configuration of windows let you embrace natural light and sightlines while adding dramatic flair to your home. When you're considering remodeling talk to us about the possibilities, and view our portfolio for inspiration.
Here at Talmadge Construction, we want to preserve Santa Cruz County homes and remodel them to fit your family's current needs. We've been doing it for nearly 40 years.
Talmadge places its reputation for integrity at the center of everything we do, advocating for homeowners because they deserve a remodel that makes life easier. You are our neighbors and fellow business owners.
We place equal importance on contributing to the growth of our community, especially in the area of education. We believe that improving people's lives at home and through education translates to a better society. When you remodel with Talmadge, you directly contribute to supporting education in your local community.
Talmadge Construction is a family-owned business providing innovative, eco-friendly design, along with consistent and straightforward communication to Santa Cruz County, CA homeowners. Our clear and effective processes result in the creation of a remarkably pleasant remodeling experience and exceptional value.
When you're considering remodeling, talk to us first. Contact us at 831-689-9133 for your free initial consultation.