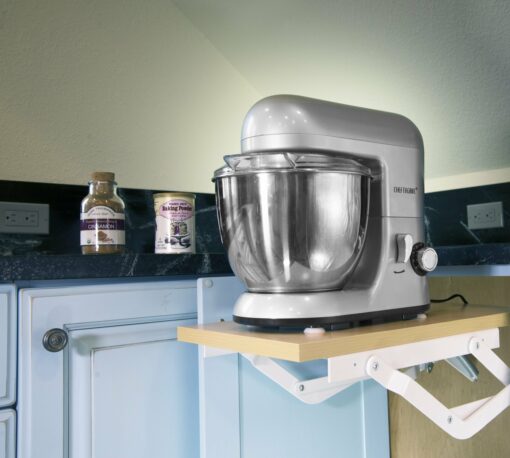 Frustrated by an outdated kitchen that was closed off from the rest of the home, our clients wanted a fully outfitted workspace for serious cooking that was also a beautiful, welcoming place for family to gather.
Removal of a wall opened up the space.  A large island with seating, provides additional prep space and holds the cooktop. Two stainless steel wall ovens and a matching refrigerator rounds out the appliances.
We drew design inspiration from the classic kitchens of French cottages. A custom blue and patinaed finish on the cabinets along with classic soapstone countertops, set the tone for the French-inspired style.
A serious cook has serious needs. This kitchen has hidden details that make turning out deliciousness easier. A hinge system was placed in a lower cabinet for the stand mixer, allowing it to be hidden, and then brought to counter height when needed. "I love my mixer stand, and also have a small bottom drawer for my spices," our client says.
Custom cabinets were designed to hold cutting boards, large serving platters and cookie sheets, as well as a step stool for help to reach the upper cabinets.
All of this is put to good use for one of our client's pet projects, dog cakes. Made of mashed potatoes, and garnished with fruits and vegetables, they are precisely sculpted likenesses of the pooches that inspired them.
We'll let our clients tell you how it's all worked for them: "Talmadge Construction was very easy to work with. They communicate very well, especially since we lived an hour away, I'd get a detailed report every Friday from Rich, the project manager, detailing what was accomplished and what's planned for next week. It was smoothest remodeling project we ever encountered. Every tradesman who worked on the house was top notch, handling everything from replacing/repairing antique windows to knocking down a wall to open up the kitchen space. The pull-out spice rack was perfect for my needs. Everyone who comes to our house loves the kitchen. It's the best feature of the house."