In our desire to cultivate healthier and happier homes, the allure of a luxurious primary bathroom is one to which many Santa Cruz County homeowners are drawn. This private space adjoining the primary bedroom offers a tranquil and beautiful sanctuary, perfect for supporting your physical and mental well-being.
In this article, we explore various design choices to consider when planning a luxury bathroom remodel that supports your lifestyle habits and needs.
Luxurious Vanities with Custom Cabinetry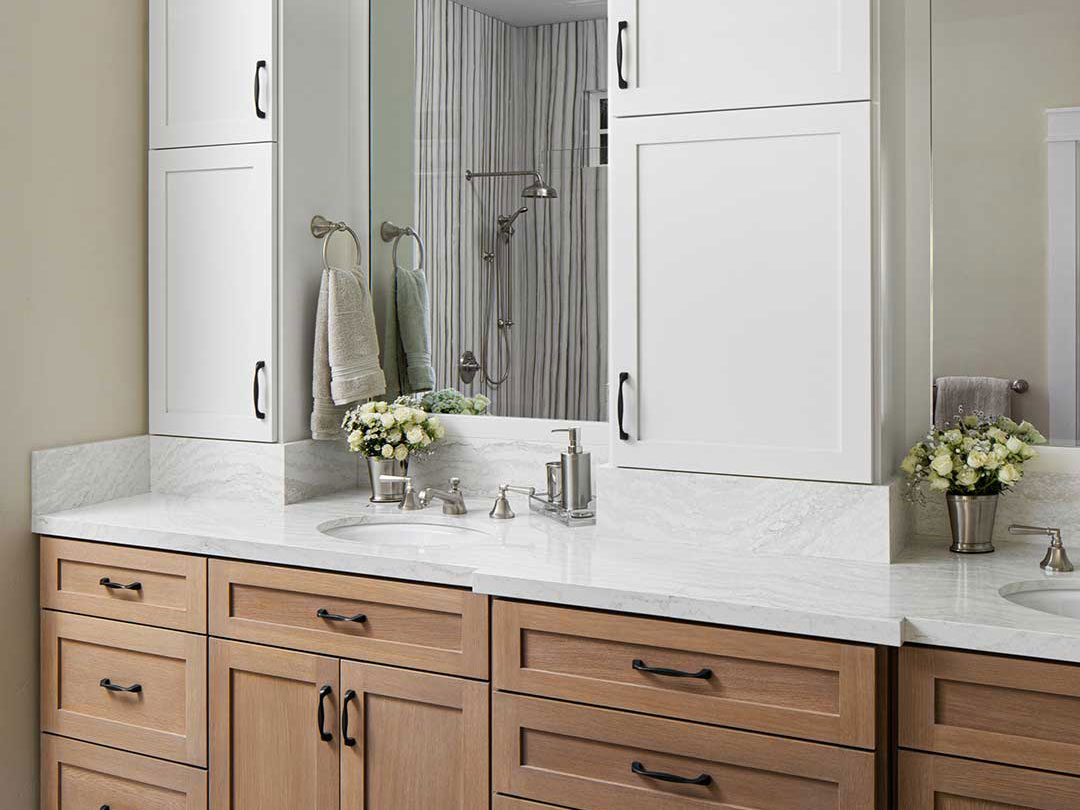 One of the best ways to make your bathroom truly stand out is the inclusion of luxurious vanities with customized cabinets. They provide eye-catching features designed according to your preferences and storage requirements, while practical elements like custom inserts and pullouts make organization and access a breeze.
Think about floor-to-ceiling tile or slab for a striking backdrop for your vanity. These designs create a visual continuity that can make the interior look brighter, tidier, and more spacious. The right style will look highly sophisticated and provide long-lasting durability.
Another way to expand the space visually is by opting for a wall-to-wall vanity mirror.
It's also important to remember the smaller details. For example, pullouts designed specifically for hair dryers and curling irons, and task-specific lighting for your daily grooming activities. And for added comfort, integrate a dedicated vanity seating area where you can sit in complete comfort.
Spa Shower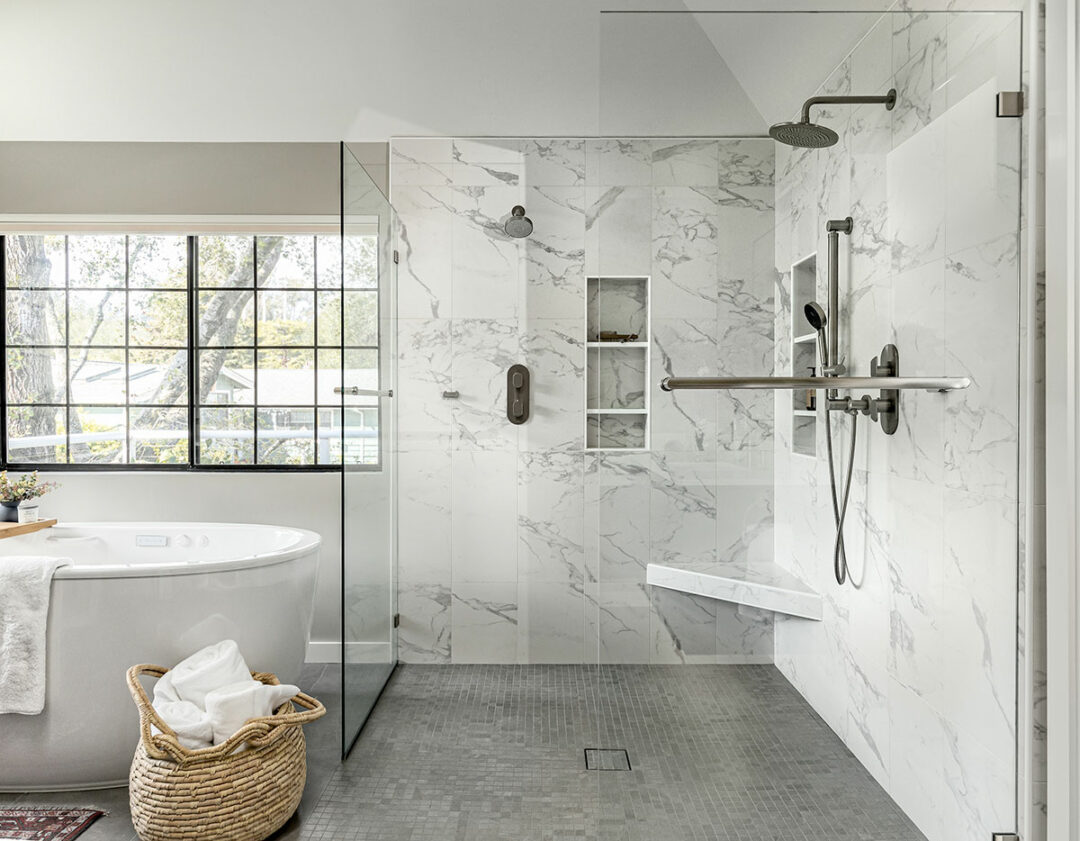 The shower is one of the key focal points in any bathroom and is a great starting point from which to enhance the rest of the interior. For a spa-like feel in your primary bathroom, consider ways to integrate modern amenities into the shower area.
Options include:
A steam function to relax and detoxify
A rain shower head for a gentle and enveloping cascade
Multiple shower heads for different personal preferences
Adding an in-shower bench provides a wonderful opportunity to lounge and relax, while niches allow for seamless storage of bath essentials.
Curbless showers are also gaining in popularity. They deliver easier access for people of all ages and abilities while offering a sleek, modern, and spacious look.
Luxurious Soaking Tub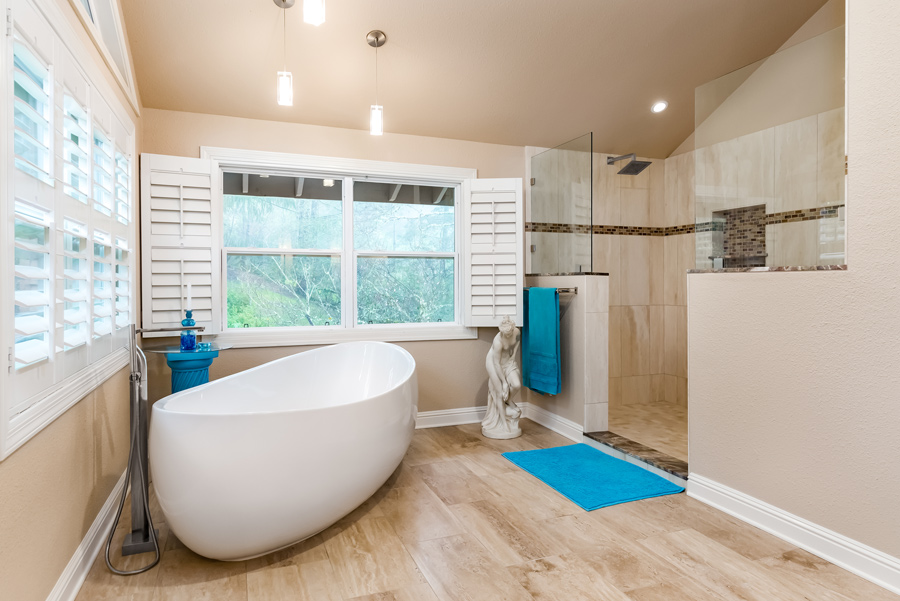 A symbol of serenity and opulence in today's fast-paced world is the image of a luxurious soaking tub. Freestanding tubs provide an impressive aesthetic charm and bring a spa-like ambiance to a modern primary bathroom. So much so they are increasingly seen as quintessential pieces in contemporary home design.
Beyond their visual appeal, a high-quality tub is also viewed by many as a legacy item, becoming an inheritable heirloom that can be passed down from generation to generation.
However, selecting the perfect tub extends beyond just aesthetics. There are various items to consider when choosing a bathtub, including a thoughtful approach to sight lines, assessing from which perspectives the tub will be viewed, and physical comfort.
And then there's material selections, fixture designs, plumbing considerations, and floor structural integrity, which require careful planning. But with help from qualified design build professionals, you'll be able to find the perfect tub that can anchor the style of your bathroom and provide luxurious comfort and appeal for potentially generations.
Smart Products for the Bathroom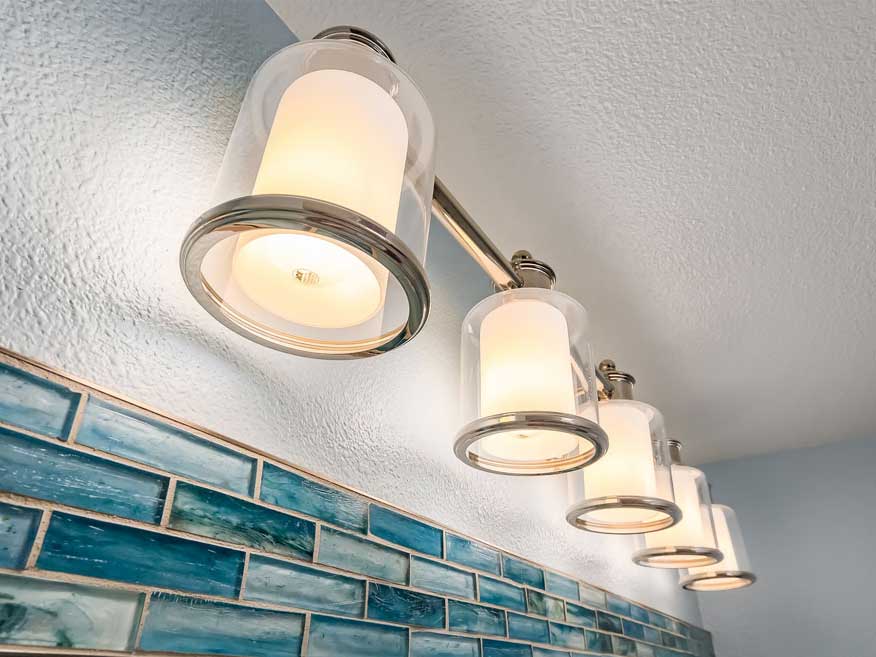 Bathrooms – as with kitchens – are at the forefront of smart technological advances in the home. Contemporary bathroom design is a meeting of luxury and technology, with touchless and voice-activated features evolving rapidly. These advances improve hygiene and increase effortless functionality, making them ideal for people of all abilities.
Smart bathroom lighting can now synchronize with our circadian rhythms, adapting to our biological clocks and delivering a setting for increased relaxation and rejuvenation.
The latest smart toilets go beyond automatic flushing – they self-clean, deodorize, and even boast heated seats for a more comfortable experience. Touchless faucets, with their precise sensors, prevent water wastage and reduce germ transmission.
Luxury is being redefined by the latest smart technological innovations, and this is no less the case than in our home bathrooms.
Fireplace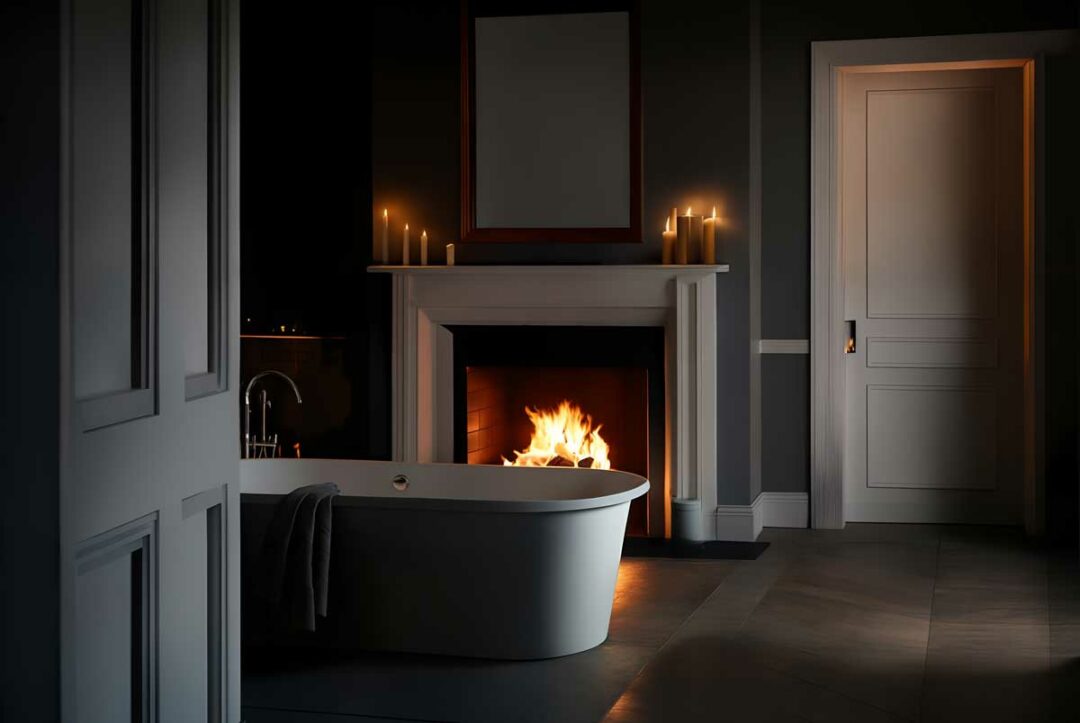 There's nothing cozier and more atmospheric than a beautiful fireplace and roaring fire, especially in the cold, dark winter months. But we usually think of a living room or dining area when it comes to fireplaces. One unexpected yet increasingly popular place to install a fireplace is in the bathroom.
Perhaps born from our fondness for period dramas on streaming services like Netflix, bathroom fireplaces offer a unique and striking focal point in what is usually a highly functional and sanitary environment.
There are many different styles to choose from, including traditional and modern. However, it's essential to check with professional remodelers about the type and placement you choose to ensure perfect safety.
Heat It Up
When it comes to heating in general – with or without the beauty of a fireplace – there are several modern solutions. Heated flooring offers a delightful underfoot sensation, especially during cold mornings, and dries out wet floors more rapidly.
Heated towel racks ensure you have a warm towel to wrap yourself in after a relaxing soak or refreshing shower. And for an extra touch of indulgence, heated towel drawers offer a discreet solution, keeping your towels at an ideal temperature and ready for use.
Mirrored Lighting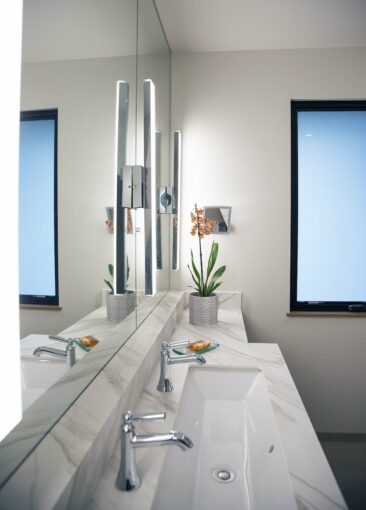 Mirrored lighting is another important feature of a luxury primary bathroom that guarantees a harmonious blend of aesthetics and practicality. There are two main types – front-lit and backlit.
The main difference between these two lies in the positioning of the LEDs. Backlit mirrors house their bulbs behind the glass, emitting a soft glow around the edges, which creates a pleasant floating illusion.
In contrast, front-lit mirrors (or lighted mirrors) feature bulbs either on top or beneath the surface, shining directly onto your face. Both are comprised of LEDs, run on electricity, and can create similar lighting effects and aesthetics.
A further difference is that backlit mirrors need to be wall mounted to achieve that enchanting backlight effect, while lighted mirrors can be wall-mounted or freestanding. The choice ultimately depends on your design preferences and intended functionality.
Statement Pendant or Chandelier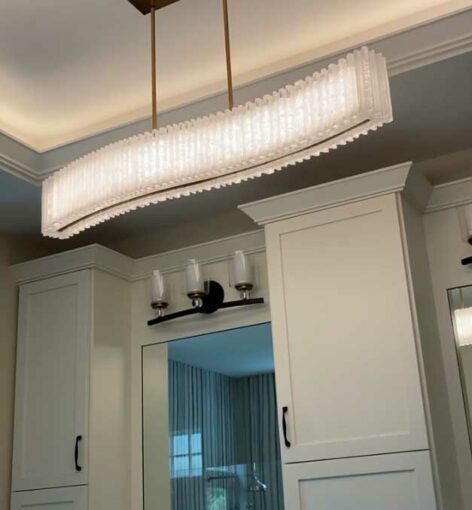 A luxury statement for a primary bathroom doesn't come grander than a pendant or mini chandelier. These opulent hanging light fixtures bestow a sense of grandeur without overwhelming the space.
Bathroom pendant lights come in many designs and sizes, perfect for all décor schemes and interior dimensions. You can install just one or many with various possible arrangements depending on the look you desire.
For more of a chandelier effect, opt for fixtures with a diameter of 18 inches or more. In expansive bathrooms of 10 by 10 feet or larger, 24 to 36-inch diameters are recommended to match the room's scale.
Design-Build Remodeling Firm in Aptos, Santa Cruz County
At Talmadge Construction in Aptos, we are dedicated to preserving coastal homes and carrying out expert remodeling to fit families' lifestyle changes. We've been doing so for nearly 40 years and would love to help you as well.
As a community-focused design-build firm passionate about eco-friendly design and local education, we are committed to exceptional customer service, quality workmanship, and complete integrity. Are you looking to remodel or extend your coastal property? We'll be with you every step of the way.
Here at Talmadge Construction, we place our reputation for integrity at the center of everything we do, advocating for homeowners because they deserve a remodel that makes life easier.
To arrange a free consultation with one of our friendly team, call us today at 831.689.9133.