With inflation, the housing market, and material costs at incredibly high rates due to the pandemic, we're seeing a growing trend of homeowners prioritizing functionality and comfort in their home remodeling projects.
Thankfully, focusing on functionality and comfort doesn't minimize beautiful design, as seen in the latest home improvement trends. This article explores some of these functional design developments and how they can benefit your Santa Cruz County home in every way, now and long into the future.
Kitchens and Bathroom Upgrades
Kitchens and bathrooms are the workhorses of our homes. They are the rooms we most frequently use and depend on every day. Both spaces require the utmost functionality while simultaneously featuring a pleasant visual appearance.
Let's first look at the changing dynamics of our kitchens.
Kitchens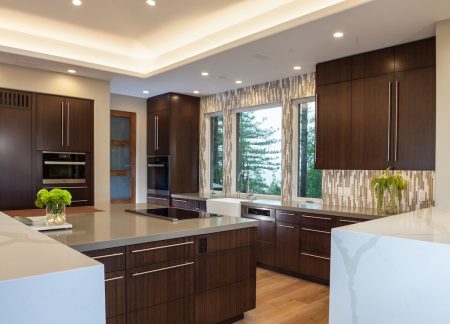 Technology – particularly smart tech – plays a significant role in modern kitchen design. From automation and integrated appliances to cloud-based virtual assistants and artificial intelligence, a growing number of upgrades are available to make food prep and entertaining much more effective, easier, and energy efficient.
As our lifestyles change, so does our home design. Kitchens feature more communal seating plans and provide better flow from the kitchen to living spaces. Open-plan kitchen and dining areas are increasingly the norm.
Custom cabinetry with clever storage solutions is another trend that's here to stay. Modern kitchens are clutter-free, and with the advancement of technology, convenient cabinet storage features and systems are more important than ever.
But as homes become more open plan, there's also a yearning for traditional elements, including walk-in pantries. These little storage rooms have been revamped for modern times and provide excellent functionality for 21st Century lifestyles and culinary needs.
And in keeping with traditional elements combining seamlessly with modern design, natural stone countertops are an increasingly popular choice among homeowners in 2023. Beautiful marbles and quartzites combined with wooden kitchen items satisfy our desire for more natural and sustainable décor.
Bathrooms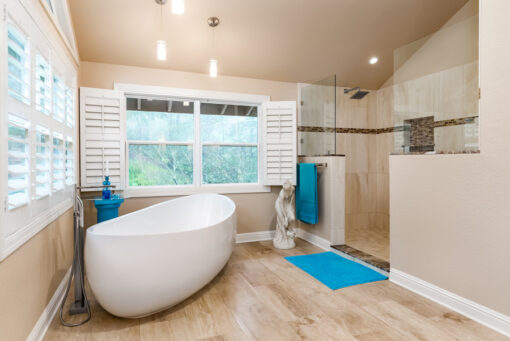 As the sanctuary of the home, good bathroom design is also essential.
Large showers are here to stay. Bigger cubicles allow easier access to people of all ages and abilities, while the open look fuels our preference for more visually expansive spaces. Custom and freestanding bathtubs are popular as well and provide a gorgeous high-end, spa-like focal point.
This home spa essence is also increasingly captured with the types of fixtures and fittings chosen, including natural materials such as stone, wood, and handmade tiles.
Timeless functional choices like front and backlit bathroom mirrors, built-in medicine cabinets, and better storage features remain popular and will do so for the foreseeable future.
A New Staple: The Home Office
Working from home was a growing trend even before COVID-19, but the worldwide pandemic quickly accelerated the demand for comfortable and functional home offices. For many people, they have become a necessity and have forever changed how we think of our homes.
The balance between form and function is perhaps nowhere more important than in the home office workspace. Many of us now work at a computer for multiple hours every day, so it's essential a workstation is built with efficiency and physical health top of mind.
For example, it's crucial to prioritize comfortable seating with proper lumbar support and other ergonomic considerations. Likewise, variable desks with adjustable keyboard platforms and anti-fatigue footrests enhance physical well-being, productivity, and focus.
Proper lighting is also vital, whether artificial lights or the amount of daylight. Layered lighting systems offer ambient lighting for the wider space and more localized lighting for particular areas. In addition, skylights and larger windows and doors increase the amount of mood-enhancing natural light entering the interior.
Indoor Outdoor Living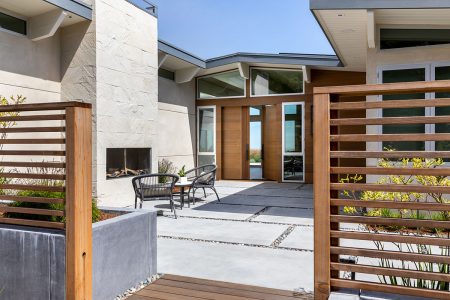 After years of pandemic restrictions, we see a big trend in indoor-outdoor living. This design technique combines the indoors and outdoors to create a unique living space that seamlessly incorporates the best of both worlds.
An example is an open-plan kitchen and dining space that opens directly into a patio area via large retractable doors. The same techniques can also be applied to a bedroom, games room, or entertainment space.
Similarly, kitchens and living rooms are being replicated in garden areas using durable furniture, fire pits, grills, and structures such as Pergolas and Gazebos.
Indoor-outdoor spaces are set to be a permanent home improvement trend for the foreseeable future throughout California.
A Focus on Multi-Generational Living and ADUs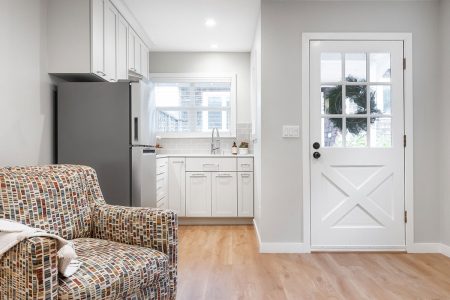 Multi-generational households are on the rise in the United States among nearly every age group. As a result, it's not uncommon for households in Santa Cruz County, and across large parts of the country for three generations to live under the same roof.
With the rise in multi-generational families, home remodeling has evolved to meet this growing societal change. A popular method to give different generations extra space and privacy is by creating suite additions – sometimes known as an Junior ADU's (JADU's).
Suite additions often include a fully private bedroom, bathroom, kitchen, laundry room, and living area, all within or directly attached to the main home structure. Some even feature their own entrance.
A similar multi-generational addition to a residential property is an Accessory Dwelling Unit (ADU). This is an additional residential building built or refurbished somewhere on your property that uses the water and energy connections of the primary house.
Energy Efficiency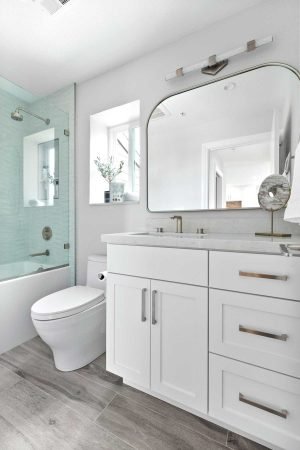 As homeowners everywhere look to cut energy costs and make their homes more eco-friendly, energy efficient home improvements will be key considerations now and far into the future. The recent Inflation Reduction Act allows for subsidies to be given to homeowners making particular energy-saving improvements thanks to the Energy Efficiency Home Improvement Credit.
The installation of solar panels is a prime example. Other energy-efficient measures popular in remodeling projects include:
Smart heating and ventilation (HVAC) systems.
Energy-reducing appliances.
Improved insulation.
Better windows and doors.
Low-flush toilets.
Plus, with more and more people seeking to reduce energy costs and save the environment, we're likely to see a continuing trend of homeowners purchasing Energy Star Appliances. Energy Star-certified products meet strict energy-efficiency requirements set by the U.S. Environmental Protection Agency.
Your trusted remodeling partner will be able to provide further assistance on all these matters and more during the design and build stages of your project.
Design-Build Remodeling Firm in Santa Cruz County
Here at Talmadge Construction, we are dedicated to preserving Santa Cruz County homes and carrying out expert remodeling to fit families' lifestyle changes. We've been doing so for nearly 40 years, and we'd love to help you as well.
As a community-focused design-build firm passionate about eco-friendly design and local education, we are committed to exceptional customer service, quality workmanship, and complete integrity. Are you looking to remodel or extend your beachfront property? We'll be with you every step of the way.
At Talmadge, we place our reputation for integrity at the center of everything we do, advocating for homeowners because they deserve a remodel that makes life easier. Recognizing that Santa Cruz County homeowners are our neighbors and fellow business owners, we place equal importance on contributing to the community's growth, including being a strong supporter of education. We firmly believe that improving peoples' lives at home and through education translates to better societies.
When you remodel with Talmadge, you directly contribute to supporting education in the local community.
To arrange a free consultation with one of our friendly team, call us today at 831.689.9133.