You live on the ocean for a reason—you enjoy the sand, surf, and general well-being that comes from being outdoors. And, if you haven't already upgraded your outdoor living space, it might be on your "to do" list for this year. But before you get started, here are a few factors to consider when it comes to choosing designs and materials that will withstand the elements particular to oceanfront property.
Benefits of an Outdoor Living Space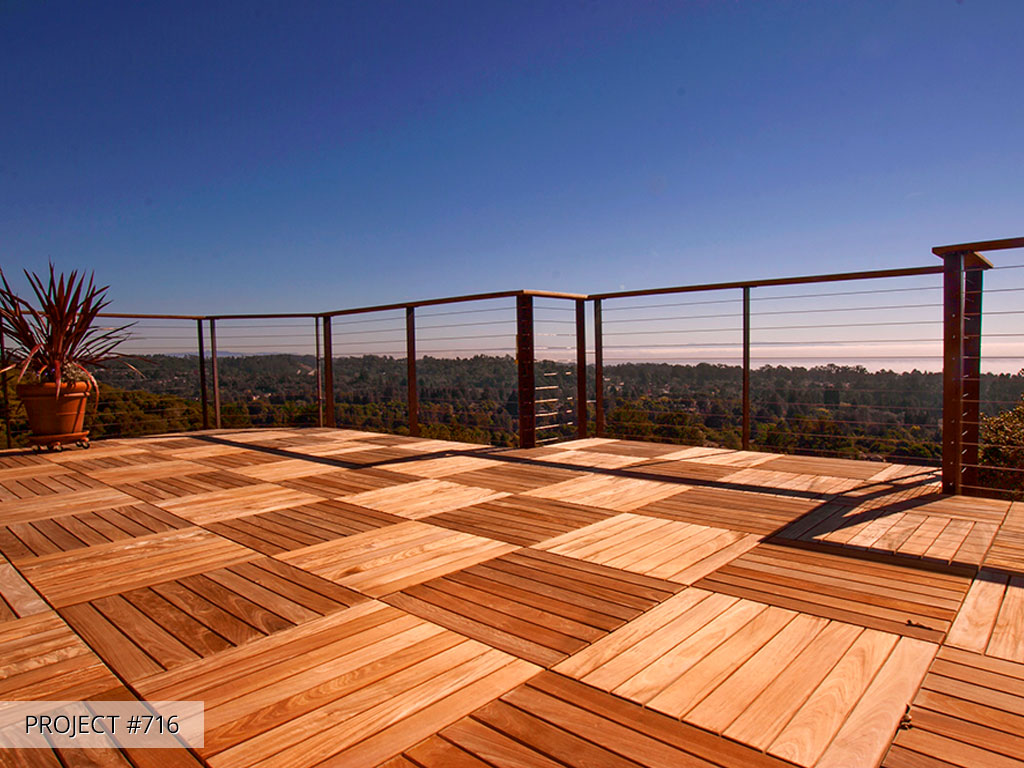 Time spent outdoors improves mental and physical health. For example, using your distance vision after looking at computer screens all day exercises your eyes and protects them from early damage. Vitamin D from the sun improves immune systems. And gazing at nature improves mental health overall.
But more than our minds and bodies, improving an outdoor living space adds value to your home. And according to Remodeling's 2021 Cost vs. Value Report, homeowners who add an outdoor deck to their home recoup from 63.2-65.8 percent of their investment.
A few other benefits of outdoor living include:
Increased living space
Additional entertainment options for both day and evening gatherings
Outdoor dining is less work when cooking on a grill
Exercise space for yoga, weight lifting, or swimming
Popular Outdoor Living Design Features


Anything is possible when it comes to outdoor living design. No matter what type of living area you want to add, you can do it and add to your gorgeous water views. And when you partner with a design-build professional, they are prepared to offer suggestions proven to work for your oceanside property. Here are some possibilities.
Pool/Spa
Is seawater too cold for you? Maybe your beach isn't the safest place to swim, particularly for children. You have the perfect place for exercise and relaxation when adding a pool to your outdoor living space. A backyard pool stays as warm as you like and can be deep enough for diving practice. Include a patio for sunbathing and lighting for that midnight swim.
Outdoor Kitchen/Bar
Let's eat. Trending outdoor kitchens include more than a charcoal grill and picnic table. A gas grill with side burners, mini-fridge, stainless steel or natural stone food prep area, sink, and storage turn your backyard into a culinary dream come true. Add a bar, stools, and other dining options for the perfect backyard experience.
Outdoor Pizza Oven
Outdoor pizza ovens are family-friendly, easy to install, and come in several designs. From in-cabinet or tabletop gas ovens to wood-fired brick ovens, pizza is happening in Santa Cruz County. And nothing tastes like a pizza cooked on a hot stone oven floor.
Ambient Lighting
Keep your outdoor living area safe and functional at night with the addition of lighting. From Edison bulbs to tree and shrub uplighting, the options are endless. Work with a professional lighting designer to make the most of light layering in your outdoor living area.
Custom Fireplace
Fire is the universal language of warmth and storytelling. And adding fire to your backyard is easy, whether you want a stone fireplace at the end of a pavilion or a firepit surrounded by Adirondack chairs. Include family and friends, a guitar, and a few old songs for a memorable evening.
Hidden Heaters
If fire makes you nervous, consider a gas fireplace or add hidden heaters to your outdoor living space. Outdoor heaters can be movable or stationary. And, their warmth will encourage you to use the area more often, all year long.
Water Features
From fountains to ponds, water brings a sense of calm to any backyard. A few options include:
A water wall
Fountain
Birdbath
Koi pond
A garden creek
Wading pool
Rain chains
Outdoor Showers
After a volleyball game on the beach, or cooling off in the ocean, who wants to go in sweaty and covered in sand? Rinse off in an outdoor shower to save the clean-up in your home. Outdoor showers make the perfect place to bathe your pup and rinse the sand from beach toys, too.
Hardscape/Landscape
A professional landscape designer will be able to look at your yard, take your dreams, and create the perfect space using patio pavers, stone walkways, floating decks, and zone-friendly plantings. The ideal balance of hardscape, landscape, and lawn brings a peaceful presence to any backyard setting.
Connect Inside and Out
Movable glass walls and pass-through windows eliminate barriers between the indoors and out. Their expansive design allows unobstructed views of the ocean when you're indoors. And, when the walls are open, guests have a hard time telling when they stepped outside.
Waterfront-Friendly Outdoor Living Materials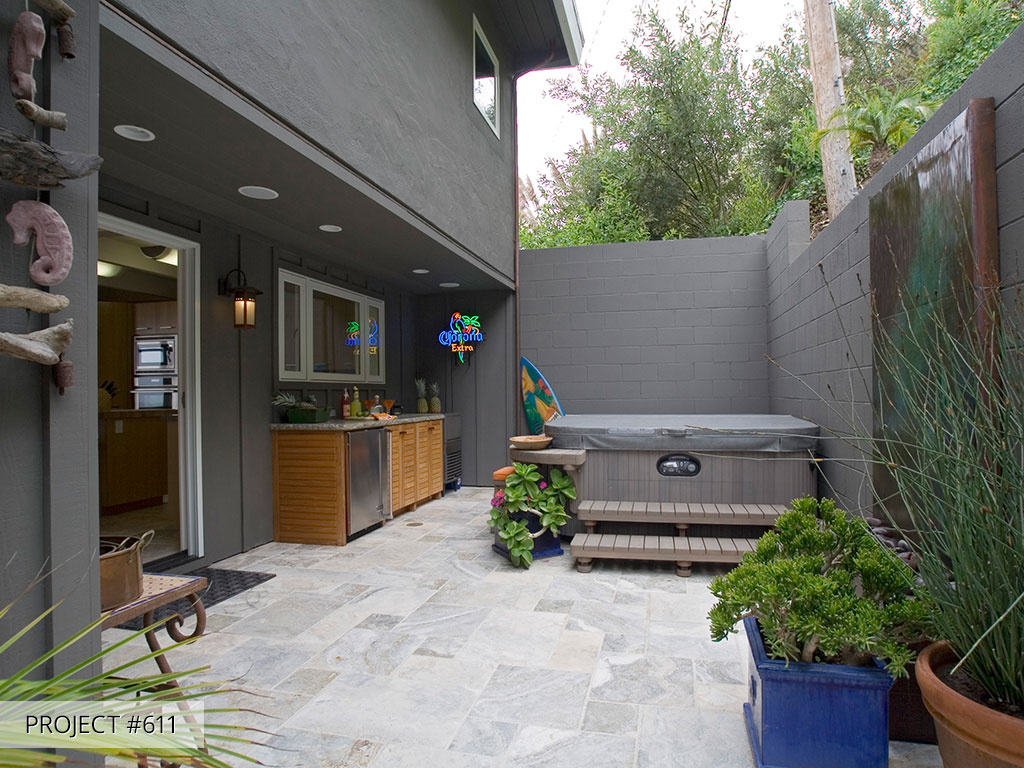 When designing your living space outdoors, include materials created to withstand the harsh elements that come with oceanfront living. Not all fabrics, metals, or other hard surfaces are up to this challenge. Consulting with a professional design-build team, you'll receive recommendations on materials that will last for years to come. Here are a few examples.
Hardscape
The portion of your yard that isn't grass or shrubs is a hardscape. For walkways, the patio, or mulch, go with porous materials. Hard materials like asphalt and concrete cause water runoff that pollutes the waterways. More eco-friendly, porous materials include gravel, brick, and permeable patio pavers.
Windows
When creating an outdoor living space adjacent to your home, consider windows and folding walls that provide a seamless transition from inside to out. Also, aluminum-clad windows are durable and require little maintenance. Constructed of wood, they are wrapped in a protective exterior layer of aluminum.
Outdoor Kitchen Fixtures
Protect your investment in an outdoor kitchen by choosing components made to last. Danver creates stainless steel outdoor kitchen components your design-build team can finish out to your specifications. Their outdoor cabinets include:
100 percent 304- or 316-grade stainless steel
Powder coat finishes with a 7-year warranty
Lifetime warranty on all outdoor cabinets
Self-closing drawers with double-wall constructions
Made-to-order custom fit for any manufacturer's appliances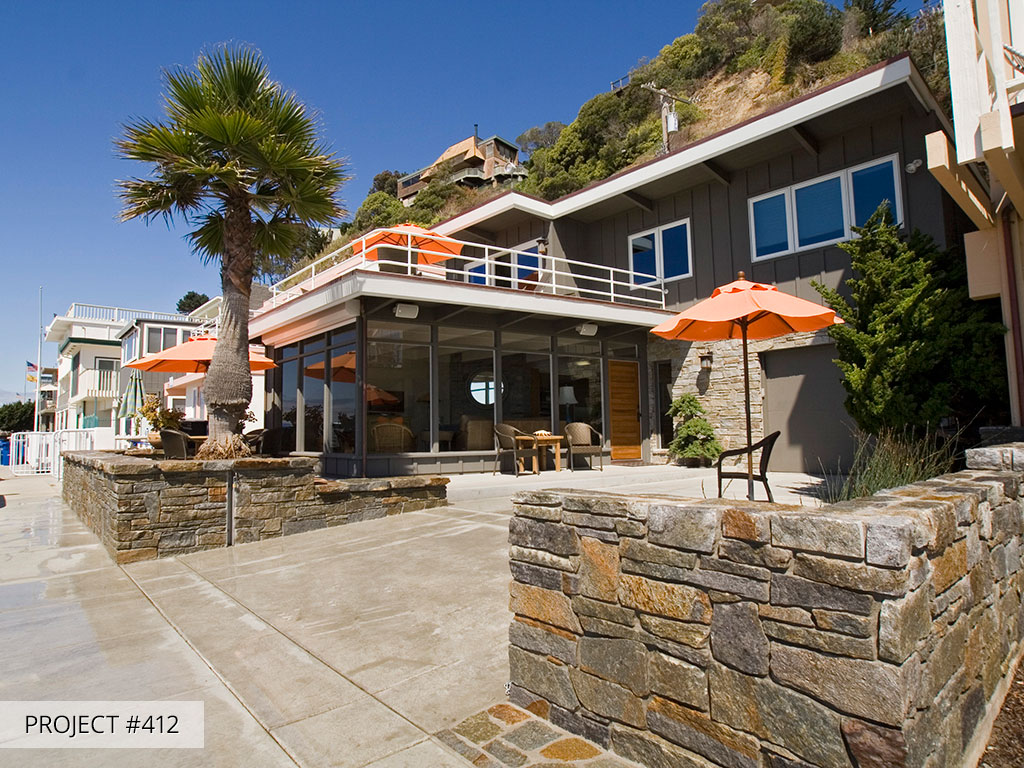 Oceanfront homes are a rare commodity in our community. That's why Talmadge Construction strives to preserve these homes through innovative, eco-friendly designs that fit the homeowners' lifestyle changes.
As an involved member of the Santa Cruz County community, Talmadge has earned its reputation for integrity. They believe in giving back through neighborhood involvement and are strong education supporters. When you partner with Talmadge, you directly contribute to supporting education in the community.
You'll also find that Talmadge Construction provides consistent and straightforward communication to their homeowners, as they have for 40 years. And their clear and effective processes create an enjoyable remodeling experience for an exceptional value.
To see some of Talmadge's work, check out their impressive kitchen, bath, and whole-house remodels portfolio. When you find something you like, feel free to schedule a consultation.