We are thrilled that the first of the $2,500 Scholarships set up in our name by Caroline's Non Profit Thrift Shop have been awarded through the Cabrillo College Foundation.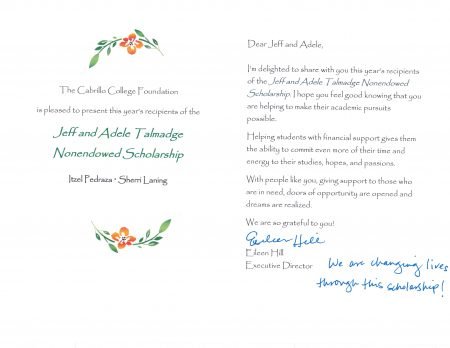 Christy Licker and the Board of Directors sent us the following information:
We received over two dozen applications, but the two applicants we selected not only met the scholarship requirements, but each demonstrated a commitment to their studies, our community, and an amazing work ethic geared toward achieving their goal.
Guadalupe "Itze" Pedrazza volunteers at the SPCA while working part time jobs.
Lupe's dream is to become a veterinarian, but she is pursuing dual degrees: Animal Biology and English. "I had a hard time deciding my career choice…I realized my passion was to help animals in the medical field, but I was unable to relinquish English as an educational goal because I enjoy it so much…. My end goal in this career path is to operate a sanctuary or rescue for animals that are in need. That's my ultimate dream."
Lupe is Mexican American and grew up in a single parent home where there was an emphasis on hard work and education. Lupe struggled with depression, anxiety and panic attacks. She graduated from an alternative high school and found a "home" At Cabrillo College. "Here, at Cabrillo, I am thriving. I never knew I could be so confident and happy in a place I dreaded my entire adolescent life, but I have. I love learning all I can in literature, chemistry, Spanish, biology, French, and who knows what else. I walk through campus knowing what lies ahead, and I'm not anxious or scared. I'm excited. I've learned that the only person who has the capacity to change my life for the better is me."
Sherri Laning has been volunteering at our local suicide prevention hotline since 2017. She also works in as a volunteer for Dress A Girl, making dresses for girls living in poverty.
Sherri had a traumatic childhood and struggled with depression and PTSD. She feels tremendously grateful and fortunate to have found external and internal resources she so needed. Sherri is now in the Honors Program at Cabrillo with "a dream of becoming a counselor and walking with people through their own struggles. I want to help people heal from pain and distress while empowering them to make healthy choices. I want to encourage healing."
Sherri's goal is to become a LCSW and serve our community.
Thank you ladies! The world needs more volunteers!
And big thanks to Caroline's for recognizing us for doing what we love to do in our community!
Jeff and Adele