If you own a pet, you might find that one of the biggest benefits of a remodel is adding design features that enable you to live more elegantly alongside your furry friends. A few examples include a built in dog gate, a hidden pet pantry, or a dog-wash shower. Designers can help cater to pet owner's needs with innovative designs that are stylish, space-conscious, and functional. Check out the list below for inspiration from some of our favorite pet-friendly remodeling ideas.
1. Pocket Dog Gate
By Robin Rigby Fisher Design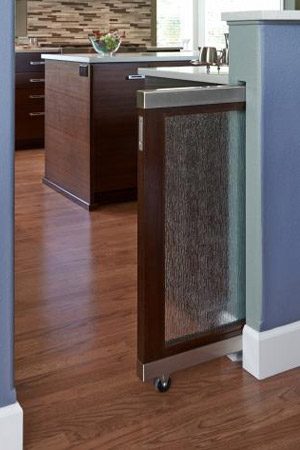 This pocket gate easily rolls into place, creating an attractive barrier that blends well with the surrounding decor. We like that the gate can easily be stored out of sight when not in use.
2. Fenced-in Dog Area
By netluxury.com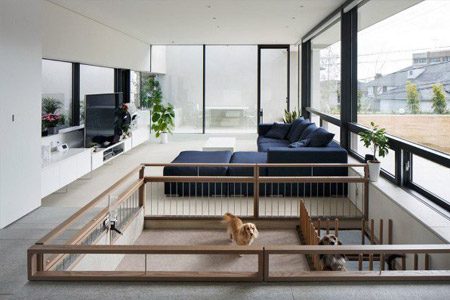 This fenced-in dog area in the main living space is a creative twist on the more traditional dog gate. We like that the space is defined from the rest of the living room with a lower floor, which allows for a lower and less obtrusive fence.
3. Pet Pantry
By Two Dog Tales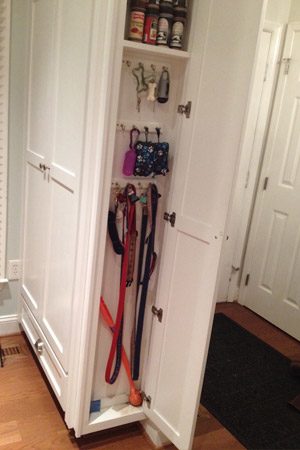 This Pet Pantry is perfect for organization and storage of your pets' leashes and accoutrements. With its shallow depth, the cabinet makes good use of space. Its location near the entryway adds exceptional convenience.
4. Hideaway Pet dishes and food storage
By Wood Mode Fine Custom Cabinetry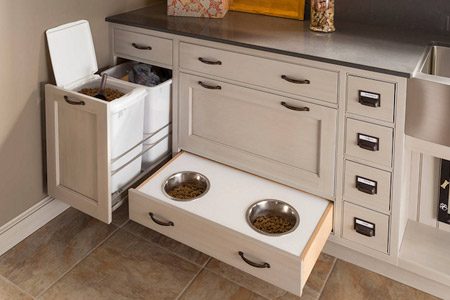 This is a great way to store pet food and pet dishes in kitchens or utility rooms that have limited space. Not only is this solution highly functional, it also keeps the floor clear of dirty bowls and spilt kibble.
5. Hidden Pet Door
By designer Rachel Halvorson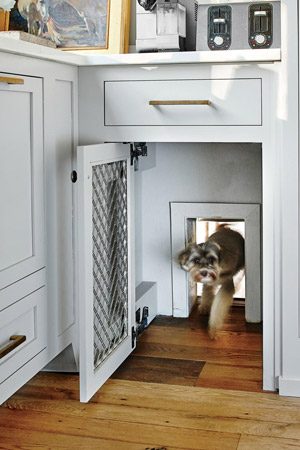 This ingenious pet door is located under a set of cabinets to keep the entry ways clear for through traffic. We love that the design has seamlessly been integrated into the kitchen's layout.[/two-thirds-first]
6. Doggie Drinking Fountain
By wood-mode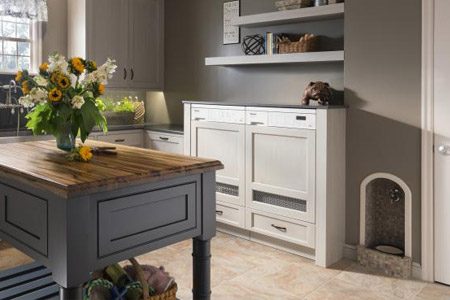 We like that the pet drinking fountain eliminates spillage from filling the water bowl in the sink and then walking it over to the pet's eating area. By building a small alcove for the faucet and basin, floor space is also conserved.
7. Dog-Level Window
By Barkitect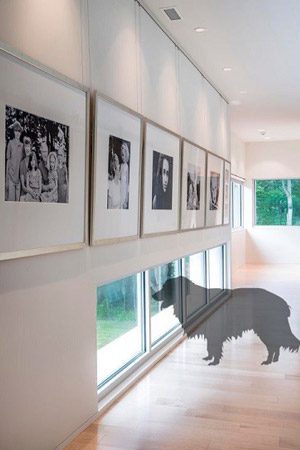 Floor-height windows have two benefits. First, they allow light to come through while preserving privacy. Secondly, they can reduce dog anxiety by giving a clear line of sight to the exterior of the home.
8. Built-in Dog Crate
By Spacecrafting/Architectural Photography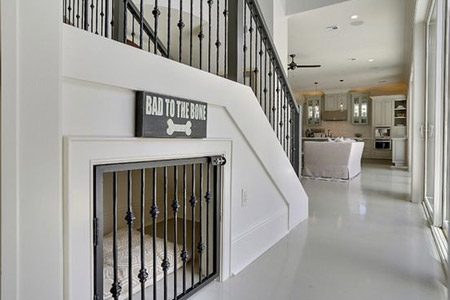 There are many innovative approaches to built-in dog crates. In this case, building the crate beneath the stairs makes use of space that would be wasted otherwise. For smaller homes, this solution maximizes the available square footage of your home.
9. Artistic Cat Wall
By Praktic Ideas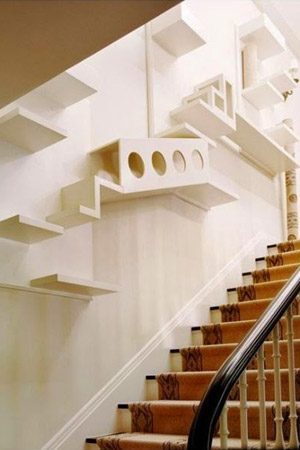 Traditional Cat trees take up floor space in the home and can look out of place in living rooms and bedrooms. We love this innovative cat wall that both serves the needs of your feline and adds style to the stairwell.
10. Pet-friendly Mudroom
By Lisa Johnson Mandell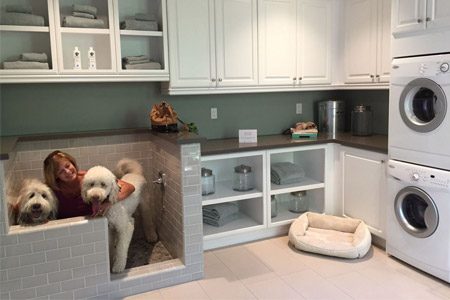 The mudroom is a natural fit for pet-friendly features such as a floor-level shower or grooming station. We like that this mudroom/laundry room has plenty of usable counter and storage, making good use of the available space.